Janet Yellen, testifying on The Hill, just dropped the largest hint that December is "on like donkey kong" no matter what. When askd if missed inflation mandates would hold her back from liftoff, she explaiend...
*YELLEN SAYS SHE SEES U.S. ECONOMY AS PERFORMING WELL
*YELLEN SAYS SHE SEES LABOR SLACK DIMINISHED SIGNIFICANTLY
*YELLEN SAYS FOMC THOUGHT IT COULD BE APPROPRIATE TO MOVE IN DEC
*YELLEN SAYS NO DECISION MADE ON DEC. MOVE, DATA TO BE MONITORED
*YELLEN SAYS DEC. WOULD BE `LIVE' MEETING IF DATA SUPPORTS MOVE
*YELLEN: FED EXPECTS ECONOMY TO JUSTIFY GRADUAL TIGHTENING PACE
And stocks, bonds, and commodities tumbled.
Short-end of the yield curve is underperforming the long-end, stocks gave back most of their openig ramp gains, and crude contionued to slide.
Click image for huge legible version...

2Y Yields are at their highest since 2011...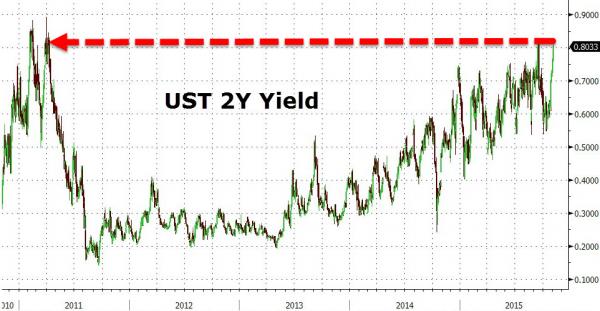 And December rate hike odds just hit 58% (up from 52% this morning)...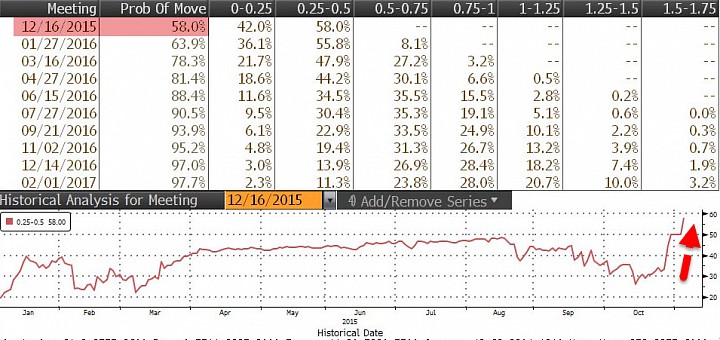 But last week a hawkish Fed was bullish??