What
Global drugstore giant Walgreens Boots Alliance (NASDAQ:WBA) reversed course during the month of August as its stock fell about 10% during the month, according to data from S&P capital IQ.
So what
The company formerly known as Walgreens didn't give investors a whole lot of news to warrant its share price decline in August, so it's likely that the stock got caught up in the general global worries that caused markets around the world to tumble during the month.
Although many investors might find it worrisome to watch a huge company like Walgreens fall for no apparent reason, these sorts of short-term dips are just par for the course in the world of investing.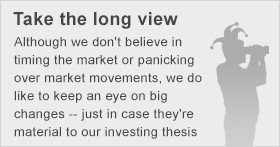 Now what
When the markets deal a blow to a high-quality company like Walgreens, there's generally nothing to fear. Investors who were bullish on Walgreens' prospects four weeks ago shouldn't look at August's share-price movement as a reason to change their tune.
In fact, when you look at the recent quarter that Walgreens just put up, I think there are plenty of reasons to be optimistic. Revenue for the quarter came in at $28.8 billion, up a huge 48% from the year-ago period...
More