Mercer, a wholly owned affiliate of Marsh & McLennan Companies, Inc. MMC recently announced the launch of Mercer Digital. This new initiative aims at offering creative and tested approaches for digital organization and workforce solutions to empower organizations for the workforce and workplace of the future. Mercer Digital will help organizations transition to a digital future.
In the present scenario, where organizations are looking forward to bringing a completely digitized working environment, surveys show that only 7% of executives globally consider their organization to be digital.
According to "Mercer's 2017 Global Talent Trends research", executives expect technological disruption and enablement to impact their organizations significantly over the coming two years. At the same time, they also accept that they lack the urge to get infrastructural preparation for the upcoming technological shift which might put the life of their businesses at risk.
In this situation of crisis, Mercer's efforts look encouraging. As a global consulting leader in advancing health, wealth and careers, Mercer holds world-renowned expertise in data and technology. It is also a global consulting leader in the areas of talent, health, retirement and investments.
Mercer Digital's capabilities extend across the full value chain from digital strategy to organization design, workforce change, and ultimately, enabling the workforce of the future through technology.
Management of Mercer assures that capabilities of Mercer Digital will be advanced through new technologies and relevant partnerships, keeping pace with global digitization in working environment.
Marsh & McLennan and its subsidiaries have always remained proactive in making investments in technological upgrades in order to stay competent globally. Year to date, the stock has gained 15% compared with the 14% rally of the Zacks categorized Insurance Brokerage industry. This recent initiative is likely to enhance shareholders' value further in terms of boosting operational excellence.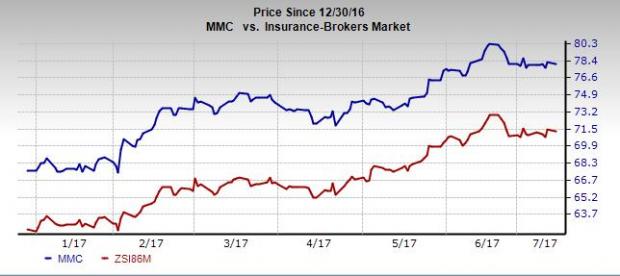 The launch of Mercer Digital follows a number of significant developments which would pave the way for the transformation of the workforce. These include the acquisition of CPSG Partners that would facilitate Mercer in transforming their HR and finance businesses. The buyout of Thomsons Online Benefits would enable multinational employers to offer a common yet locally tailored employee benefits platform that delivers the latest in engagement, design, analytics and administrative efficiency and support.
The acquisition of Sirota Consulting is expected to strengthen Mercer's consulting power and capabilities in talent management by including a full array of employee engagement solutions.
In addition, an investment in Talent Tech Labs would provide Mercer a front line view of the most promising new firms and emerging technologies in talent acquisition. Lastly, a strategic alliance with Career Arc would offer social, on-demand transition services for today's workforce via social recruitment and virtual outplacement.
These inorganic strategies are expected help Mercer implement cloud-based technologies that enable digital organization design.
Zacks Rank and Stocks to Consider
Marsh & McLennan currently carries a Zacks Rank #3 (Hold).
Some better-ranked stocks in the insurance industry include Reinsurance Group of America, Incorporated RGA, Cigna Corporation CI and FBL Financial Group, Inc. FFG. Each of the stocks carries a Zacks Rank #2 (Buy). You can see https://www.zacks.com/stocks/buy-list/?ADID=zp_1link&ICI... _1link">the complete list of today's Zacks #1 Rank (Strong Buy) stocks here.
Reinsurance Group deals in reinsurance business. The company delivered positive surprises in three of the last four quarters with an average beat of 5.08%.
Cigna provides insurance plus related products and services in the United States and internationally. The company delivered positive surprises in three of the last four quarters with an average beat of 1.35%.
FBL Financial sells individual life insurance and annuity products. The company delivered positive surprises in two of the last four quarters with an average beat of 1.98%.
More Stock News: 8 Companies Verge on Apple-Like Run
Did you miss Apple's 9X stock explosion after they launched their iPhone in 2007? Now 2017 looks to be a pivotal year to get in on another emerging technology expected to rock the market. Demand could soar from almost nothing to $42 billion by 2025. Reports suggest it could save 10 million lives per decade which could in turn save $200 billion in U.S. healthcare costs.
A bonus Zacks Special Report names this breakthrough and the 8 best stocks to exploit it. Like Apple in 2007, these companies are already strong and coiling for potential mega-gains. Click to see them right now >>
Want the latest recommendations from Zacks Investment Research? Today, you can download 7 Best Stocks for the Next 30 Days.
Click to get this free report
Marsh & McLennan Companies, Inc. (MMC): Free Stock Analysis Report
Reinsurance Group of America, Incorporated (RGA): Free Stock Analysis Report
Cigna Corporation (CI): Free Stock Analysis Report
FBL Financial Group, Inc. (FFG): Free Stock Analysis Report
To read this article on Zacks.com click here.