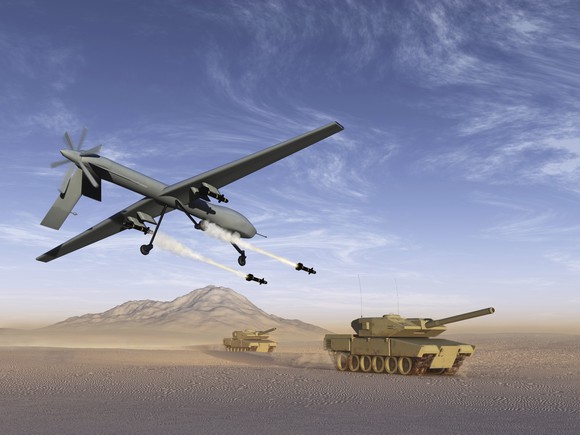 Last month, news that Kratos Defense & Security Solutions (NASDAQ:KTOS) had landed all three of the military drone contracts it had been aiming for (and had a lead on another big one) helped to drive Kratos stock up nearly 60%. Today, we're going to tell you a bit more about one of the contracts that fueled that rally.
Low-Cost Attritable Strike unmanned aerial system Demonstration
Kratos actually won the Low-Cost Attritable Strike unmanned aerial system Demonstration (LCASD) contract a month before reporting earnings, on July 11, 2016. LCASD is a new project sponsored by the Air Force Research Laboratory to develop "a high-speed, long-range, low-cost, limited life-strike UAS."
Let's break down those elements for you.
"They were expendable"
In many ways, LCASD appears to be an Air Force equivalent of the old Navy "PT boat" fleet.
"Low-cost" is key, as the U.S. Air Force is working on a tight budget brought about, in part, by the high cost of the thousands of manned Lockheed Martin F-35 stealth fighter jets it's buying to replace its legacy piloted aircraft. Even after cost reductions, those birds cost $100 million or more to buy, so for its unmanned programs, the Air Force is looking to spend considerably less per drone unit put in the field.
"Attritable," or as Kratos puts it, "limited life" is in part a function of the low cost objective. Lockheed's F-35 program, for example, is supposed to have a 60-year shelf life. Once built, each $100 million F-35 should keep on flying for decades before needing to be replaced. Because LCASD drones will be cheaper, however, it's permissible to make them disposable over shorter periods of time.
And finally, "unmanned." Contributing to the LCASD's "attritability" is the fact that these drones will be unmanned. If an F-35 gets shot down, a pilot's life is at risk. If an LCASD drone gets shot down, at least no pilot dies. Hence, these drones don't need to be as survivable as an F-35.
What's in the box
According to Kratos, the Air Force is looking for the...
More