After being abandoned for the last one year, Master Limited Partnerships (MLPs) are finally turning the corner. The space has seen some light at the end of the tunnel on an oil price rebound. Notably, United States Oil (USO), which looks to track the movements of light, sweet crude oil, advanced about 7.5% in the last one month (as of April 26, 2016).

Oil price has been showing signs of a recovery lately on easing supply glut, and rebounded from the 12-year low level seen at the start of 2016 (read: Oil Hits 12-Year Low: Short Energy Stocks with ETFs).

Now that crude oil prices touched this year's high on April 26, following reports of a drawdown in U.S. crude inventory, bullish sentiments are building up in the oil patch. With this, broad-based hope on falling supplies is slowly spreading across the market.  

Also, a subdued greenback, a declining rig count and better demand/supply balance have added to the optimism. All these improved the scene for MLP ETFs and sent the securities rallying in recent weeks. The largest MLP ETF Alerian MLP ETF (AMLP) added about 14.2% in the last one month (as of April 26, 2016) while the S&P 500 based ETF SPY added about 2.9% (read: MLP ETFs Trading at a Huge Discount to NAV).

Does This Rally Have Legs?

While a jump in oil prices (which has been a deterrent to MLPs so far) is good for the space, investors should note that MLPs have low correlation with the underlying commodity. MLPs often operate pipelines or similar energy infrastructure and their revenues depend on the volumes flowing through the pipes and not on the commodity price.

Agreed, worries around the energy sector may subside in the coming days. After almost one-and-a-half years of a rout, the demand-supply dynamics should be balancing now. But still the road ahead is likely to be choppy with the failure of the output freeze deal in Doha (read: How to Profit from the Failed Doha Meeting via ETFs).

Maybe things will not be as scary as they were earlier, but whether the recent uptrend is here to stay is still anybody's guess.

High Yield Nature: A Savior to MLPs?

Investors should note that MLP is an interest rate-sensitive sector. MLPs catch investors' eyes as these do not pay taxes at the entity level and are thus able to pay out most of their income (more than 90%) in the form of dividends.  While most traditional income asset classes produce miniscule yields, MLPs keeping luring investors with their higher payouts (read: Boost Income and Growth with MLP ETFs).

Meanwhile, yields have been rising steadily in the U.S. over the last few days. If interest rates rise, MLPs will have to pay higher for the huge chunk of borrowed money which in turn may lead them to lower dividend payout. This is definitely a risk for the space. This is especially true given that the cash position of MLPs is weakening on the oil price rout (read: No High-Yield Relief for MLP ETFs Post Fed).

So, all in all, the situation is mixed for MLPs. But there is also a way to outperform. Investors can definitely look at those MLP ETFs which are yielding much higher and beat out the yields on 10-year U.S. Treasury notes.

Below we highlight four MLP ETFs that returned at least 14% in the last one month (as of April 26, 2016) and yield a minimum of 8% (read: MLP ETFs: Still Good for Income Investors?).
The options are:

Morgan Stanley Cushing MLP High Income Index ETN (MLPY) with 14.71% yield.

RBC Yorkville MLP Distribution Growth Leaders Liquid Index ETN (YGRO) with 10.51% yield.

Market Vectors High Income Infrastructure MLP ETF (YMLI) with 8.90% yield.
X-Links Cushing MLP Infrastructure ETN (MLPN) with 8.12% yield.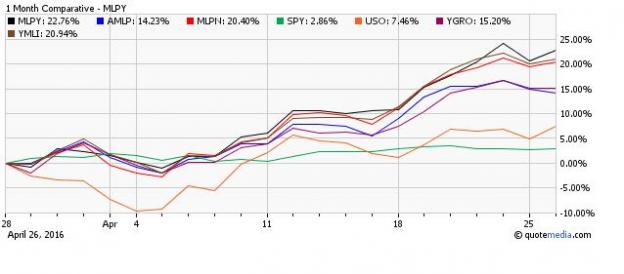 Want the latest recommendations from Zacks Investment Research? Today, you can download 7 Best Stocks for the Next 30 Days. Click to get this free report >>
 
Want the latest recommendations from Zacks Investment Research? Today, you can download 7 Best Stocks for the Next 30 Days.
Click to get this free report
To read this article on Zacks.com click here.
Zacks Investment Research
Want the latest recommendations from Zacks Investment Research? Today, you can download 7 Best Stocks for the Next 30 Days. Click to get this free report