June's US Manufacturing PMI reported by the Institute for Supply Management (ISM) came in at 55.3. This is essentially the same as May's reading of 55.4. Economists had forecast a faster expansion reading around 55.6.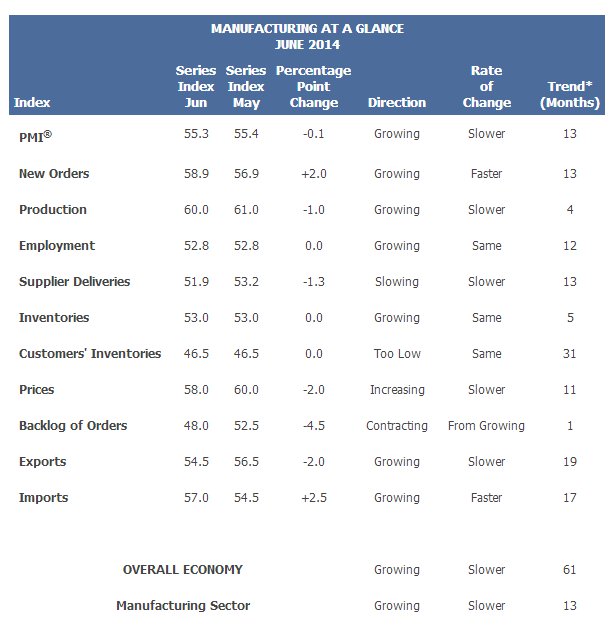 While this is not necessarily a terrible reading, it does fall into the category of "underwhelming" or "unimpressive". After Q1 GDP was revised to an annualized rate of -2.9%, market watchers are starting to see signs that Q2 growth will also disappoint.  
The USD Index (USDX) did fall further to a new low on the week right after the soft manufacturing report. We do see traders support the 79.75 level and a break above the session high of 79.87 could open up a short-term bullish correction.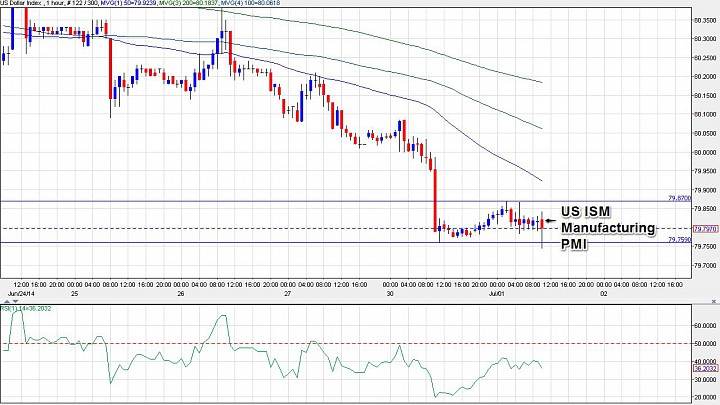 (usdx 1h chart, 7/1)

Bullish correction or not, the 1H chart shows a very bearish market as evidenced by the downward sloping moving averages in bearish alignment that are spreading apart.

The market seems to be worried that this weeks jobs report on Thursday will "underwhelm" as well. This could set up for some short-term buy the rumor, sell the news, or in this case sell the usd on rumor, buy it on news - that is if the US NFP actually beats estimates. Otherwise, a poor NFP would likely add to the current bearish outlook for the USD.