The EUR/AUD made an importat move this week, popping above the 1.5580 resistance level which had capped the Euro's gains against the Aussie during December.
<!== INSTRUMENT %% %1440% ==!>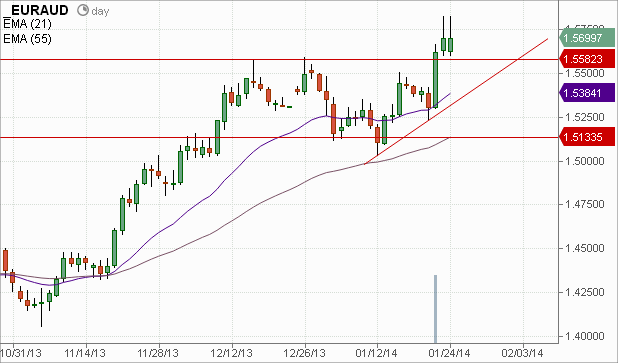 In the Friday global session, the Euro pushed its advantage, but after hitting a high just above 1.58, the pair fell back.

Still, the important technical damage has been done as long as the pair remains above the old level of support at 1.5580. Even if it dips back into the trading range from Dec-Jan, it can find support either at the 21-ema or the upward sloping support trendline.
The macro situation seems to favor this pair as well as slower manufacturing growth in China has a direct impact on Australia, while the domestic Australian economy has been sluggish, leaving open the of another rate cut and a dovish stance by the central bank.
In the Euro-zone meanwhile, the better than expected PMI report this week, probably gave the ECB less urgency to try to take further action (such as a rate cut), which should help strengthen the Euro.

Looking at the weekly chart of this pair, the pair is now at its bets level since late 2009, but there's certainly the scope for the pair to rally further - we aren't talking about all-time highs here. In fact, the pair was up around 2.10 in late 2008. The last year was a very strong year for this pair, and I believe the circumstances are such that the pair can extend its move higher, up to 1.64 and maybe even 1.71 during 2014.