While almost any stock at the right price has the potential to make for a successful investment, there are some stocks that are best left alone. Here's why DryShips (NASDAQ: DRYS), Fiat Chrysler Automobiles (NYSE: FCAU), and J.C. Penney (NYSE: JCP) should be avoided.
The shipping giant that can't stop losing money
Travis Hoium (DryShips): Throwing money at DryShips is probably the riskiest thing investors can do in the market today. We have no idea what management is going to spend money on or even if they'll have shareholders' best interest at heart.
I highlighted this a few weeks ago when I showed how through a series of transactions CEO George Economou is lining his own pockets privately while diluting public shareholders. If you want a very simple view of this, you can look at the chart below. DryShips continues to dilute shareholders, destroying value in the process.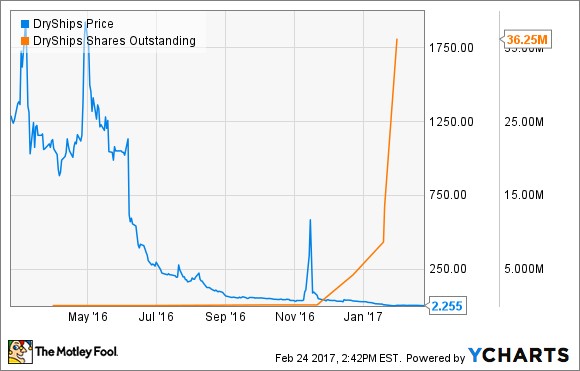 This got worse last week when the company announced a $200 million stock sale agreement that will be incredibly dilutive to shareholders holding the stock. It's no wonder that shares have dropped by more than 50% since the announcement.
Investing should be about buying a company you believe will generate earnings in the future and return profits to shareholders through dividends or a rising stock price. DryShips has done neither and seems more interested in buying assets from its CEO with shareholder funds than anything else.
Too many red flags
Daniel Miller (Fiat Chrysler Automobiles): To be fair, you could invest in many worse companies than Fiat Chrysler Automobiles, but in my opinion, this is still a stock to avoid. Some of the reasons are specifically to do with Fiat...
More