In August so far, EUR/CHF has been bullish. From a 7/31 low of 1.0526 it rallied to 1.0960 before retreating this past week. By the end of the week, price action has neutralized. In fact at the end of the week, price held firmly under the 1.0893 resistance. 

EUR/CHF 1H Chart 8/15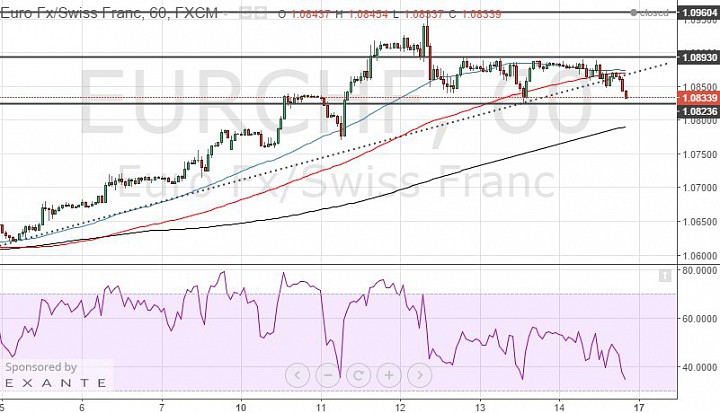 (click to enlarge)

The 1H chart shows that price is now holding under the 100- and 50-hour simple moving averages (SMAs). Also, the 1H RSI is falling below 40 showing loss of the prevailing bullish momentum. Finally, price action has broken below a rising trendline that comes up from that 7/31 low at 1.0526. A break below 1.0830 would be the next bearish signal. 

Because of the prevailing uptrend, let's limit the bearish outlook. I would look at the 1.0750-1.0775 area as a possible support area, especially if the 1h RSI pushes below 30 and forms bullish divergence vs. price. 

If price doesn't break below 1.0830, or does, but sharply climbs back up above 1.0895, we are likely going to have a bullish continuation, and the 1.0960 high would be back in play, with risk of EUR/CHF pushing to 1.10 next week.