The NZD/USD pair has seen a strong rally over the last 5 trading sessions, seen below in a 1HR chart.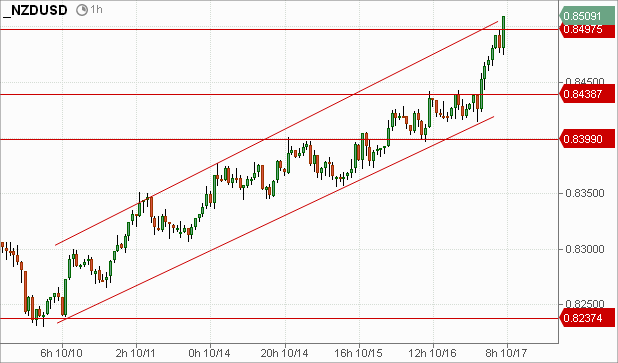 (Click the chart to enter WhoTrades interactive charting with most recent live price action.)

Looking at that sharp 5-day swing in the NZDUSD in some wider context, let's zoom out to the daily chart, as we are presented with some interesting price action over the last two daily candles.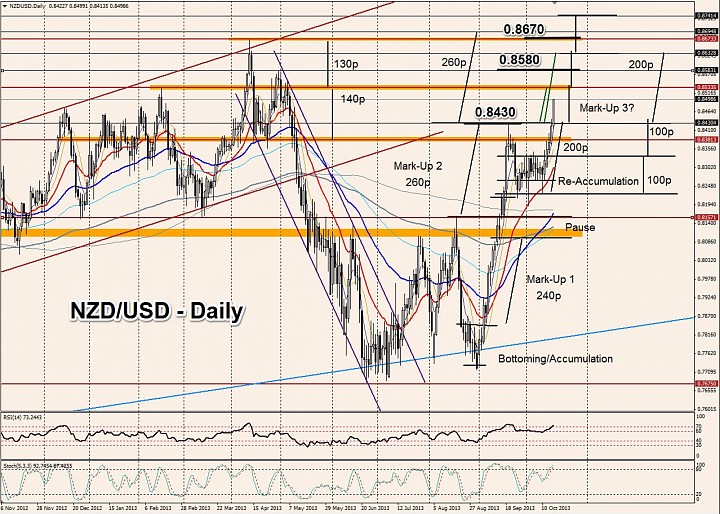 Prior to this upswing, the pair had been in a 12-day sideways range, with low volatility, that to me looked like a Re-Accumulation phase after the very strong rally the first half of September (labaled Mark-Up 1 and 2). 
With a break through the most recent previous high 0.8430, the pair seems to be embarking on another mark-up phase (3rd) . We could do various projected measured moves based on the width of the re-accumulation range (100 pips) or the  measurement from the low of the range to the pr. high at 0.8430 (~200 pips).

Important pivots up ahead are: 0.8530 (pivot from Feb/May), 0.8580 (late-Apr highs), 0.8630 (200pip measured move from 8430), 0.8670 (Apr high). These can be used as upside targets, and expectation of supply coming in and establishing some resistance levels along the way.
The trading idea to catch this mark-up phase would be to wait for a pullback to this recent move. At this point it may be prudent to await a drop to a level of support where there will be demand and orders placed. one clear area demand zone should be before the previous resistance @ 0.8430.

In general, when buying for anticipation of a further up-move, its always good to buy following a pullback/retracement or near the lows of a recent range. Therefore, if you're not on the Kiwi already, then its time to be patient and wait for a "buy the dip" scenario.
Shorting here towards 0.8430 could be a good scalping/short-term/intra-day strategy since the pair has become stretched to the upside in the smaller time-frames following the most recent breach of the previous high. However, one should wait for some proper topping price action to appear as well, dont want to get caught on the wrong side of the upside mark-up move.

For the medium term, from a technical analysis perspective the recent 5 session have set a bullish town for the pair (and therefore be on the look out for opportunities to get long), and now only a concrete push back below the 0.8430 returns the pair to a more neutral or bearish inclination. 
- Nick