Do you see what happens Larry when Wal-mart succumbs to "progressive" pressure and hikes minimum wage? This:
WMT CFO: NEW HIRES TO START AT $10 PER HOUR NEXT YEAR
WMT CFO: 2017 RISE IN WAGES TO COST $1.5B
WMT PLANS REDUCTION IN CAPITAL EXPENDITURES THROUGH FY19
WAL-MART SEES FY2017 EPS DECREASING 6-12% VS FY2016
Yes, the company just slashed its 2017 earnings forecast by up to a whopping 12%... but at least the workers are happy, if not so much the market as WMT stock plunges the most since Lehman, and has lost more market cap than Twitter.
Carnage: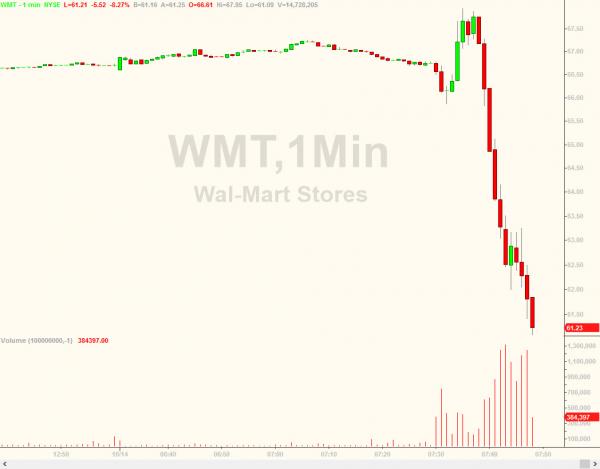 Not even the company announcing a just as surprising $20 billion stock buyback is helping it.
And now that WMT has just become an activist target, and announced it will not boost CapEx for the next 4 years, expect the company to proceed with the logical next step after it hikes wages: massive layoffs.
Congratulations American workers: you lose again!