Roche Holding AG's RHHBY reported sales of CHF26.3 billion in the first half of 2017, up 5% from the year-ago period.
Core earnings came in at CHF8.23 per share, up 6% from the first half of 2016.

Shares of Roche have performed better than the Zacks classified industry in the year so far. In fact, the stock gained 10.8% over this time frame, compared with a gain of 9.9% for the industry.
The company reports results under two divisions: Pharmaceuticals and Diagnostics. All growth rates mentioned below are on a year-over-year basis and at constant exchange rates.
Sales at the Pharmaceuticals division increased 5% driven by strong growth in Tecentriq, Ocrevus and Perjeta which was partially offset by lower sales of Tarceva, Tamiflu and Pegasys. Diagnostics division sales climbed 5% primarily on the back of strong immunodiagnostic business.
First Half in Detail
Herceptin sales improved 3% due to increasing demand in the U.S. and Brazil along with additional reimbursement approvals and broader use in China. Perjeta sales grew 17% following increased demand in the neoadjuvant and metastatic settings in Europe, the U.S. and international markets. Sales of Kadcyla (+9%) were driven by increasing demand in the international markets.
Meanwhile, sales of Avastin were strong in the international region (+11%), especially China where sales grew due to broader market penetration in the lung and colorectal cancer setting. However, sales in the U.S. dropped 3% due to the increased use of new immunotherapy agents in the lung cancer setting. Overall, sales declined 1%.
Sales of Rituxan/MabThera (+3%) contributed to the top-line growth in the oncology as well as in the immunology segments. Growth in Gazyva/Gazyvaro (+44%) was witnessed in the U.S. and Europe despite increasing competition in chronic lymphocytic leukemia.
Recently launched drugs, Tecentriq for bladder cancer and Alecensa for lung cancer are off for an encouraging start. Initial uptake in the U.S. has been strong. Tecentriq, Ocrevus and Alecensa contributed CHF 0.5 billion of new sales, contributing to half of the division's growth.
Performance of the immunology franchise was driven by increased sales of Actemra/RoActemra (13%), and strong uptake of Esbriet (16%) and Xolair (17%). Increasing use of Actemra/RoActemra as a single agent and in the subcutaneous formulation were the key growth drivers globally.
However, sales of Tarceva declined (-17%) due to growing use of other therapeutic options. Sales of Xeloda (-1%) continue to be hit by generic competition. Sales of Tamiflu also declined 12%.
Revenues at the Diagnostics division climbed 5% on the back of solid performance of the Centralised and Point of Care Solutions (8%) unit, which was in turn, propelled by Immunodiagnostics (13%). Tissue Diagnostics (13%) and Molecular Diagnostics (1%) also performed impressively. However, Diabetes Care sales declined 4% as sales continue to be impacted by challenging market conditions, particularly in North America.
2017 Outlook Raised
Roche now expect sales to grow in mid-single digits (prior guidance: low-to-mid single digits). The company expects core earnings to grow in tandem with sales. The company intends to further increase its dividend in 2017 in local currency.
Roche Holding AG Revenue (TTM)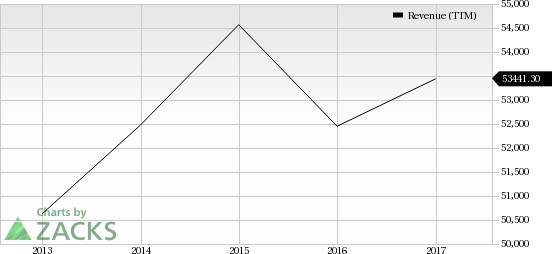 Pipeline Progress
Roche continues to expand cancer immunotherapy drug Tecentriq (bladder and lung cancer)'s label. Tecentriq received accelerated approval from the FDA for the treatment of people with locally advanced or metastatic urothelial carcinoma who are not eligible for cisplatin chemotherapy in Apr 2017. Lucentis was approved by the FDA for the monthly treatment of all forms of diabetic retinopathy. Actemra/RoActemra subcutaneous injection was approved by the FDA for the treatment of giant cell arteritis in May 2017.
The FDA further approved Rituxan Hycela (rituximab and hyaluronidase human) for subcutaneous injection, for the treatment of adults with specific forms of blood cancer. On the other hand, a new tablet formulation of Esbriet was approved by the European Commission for the treatment of mild to moderate idiopathic pulmonary fibrosis (IPF). The FDA has already approved the same in early 2017.
Roche also presented positive results on emicizumab in patients suffering from haemophilia A from the phase III study, HAVEN. Meanwhile, studies showed that Roche's Ocrevus significantly reduced the risk of both relapsing and primary progressive multiple sclerosis (RMS and PPMS) patients requiring mobility aids versus comparators.
However, the phase III study, IMvigor211, which evaluated Tecentriq in patients with locally advanced or metastatic urothelial cancer whose disease progressed during or after treatment with a platinum-based chemotherapy (previously treated), did not meet its primary endpoint of overall survival compared to chemotherapy.
Our Take
Roche's results for the first half of 2017 were impressive with sales being boosted by new product launches–Tecentriq and Ocrevus. Sales of Tecentriq were mainly driven by strong uptake in the U.S. in metastatic bladder cancer and in metastatic non-small cell lung cancer (NSCLC). The label expansion of the drug is expected to boost sales further. The successful launch of Ocrevus for the treatment of two forms of multiple sclerosis has also boosted the topline. Based on a strong performance in the first half, the company also raised its sales guidance.
However, sales of Avastin and Tarceva continue to decline. Generic competition for Xeloda also continues to hurt sales.
We note that competition from biosimilars loom large on Roche's key drugs like Herceptin, Avastin and Rituxan. The first biosimilars for MabThera are already in the market. The company expect biosimilars for Herceptin towards 2017 end-early 2018. We note that Novartis AG NVS has already launched its bisomilar version of Rituxan/ MabThera in Europe. Moreover, Roche is facing stiff competition from the likes of Merck & Co., Inc. MRK Keytruda and Bristol-Myers Squibb Company BMY Opdivo in the immuno-oncology space.
Zacks Rank
Roche currently carries a Zacks Rank #3 (Hold).
You can see the complete list of today's Zacks #1 (Strong Buy) Rank stocks here .
The Hottest Tech Mega-Trend of All
Last year, it generated $8 billion in global revenues. By 2020, it's predicted to blast through the roof to $47 billion. Famed investor Mark Cuban says it will produce "the world's first trillionaries," but that should still leave plenty of money for regular investors who make the right trades early. See Zacks' 3 Best Stocks to Play This Trend >>
Want the latest recommendations from Zacks Investment Research? Today, you can download 7 Best Stocks for the Next 30 Days.
Click to get this free report
Roche Holding AG (RHHBY): Free Stock Analysis Report
Bristol-Myers Squibb Company (BMY): Free Stock Analysis Report
Novartis AG (NVS): Free Stock Analysis Report
Merck & Company, Inc. (MRK): Free Stock Analysis Report
To read this article on Zacks.com click here.
Zacks Investment Research