Whiting Petroleum - the largest oil producer in the Bakken shale formation - has caught some investors' (and TV talking heads) eyes this morning as it has jumped over 11% on speculation that its decision to put itself up for sale - as a "motivated" seller - somehow means the collapse in the share price will be reversed by some greater fool who sees "synergies." We wonder though... who exactly is going to buy this company that trades at a 1043x Forward P/E?
As Bloomberg noted Friday,
Whiting Petroleum Corp., the largest oil producer in the Bakken shale formation, has hired a bank to pursue a possible sale, people familiar with the matter said.

 

The Denver-based company, which has a market value of $5.7 billion, has reached out to potential buyers including Norway's Statoil ASA, one of the people said, asking not to be identified as the information is private.

 

Whiting, which acquired Kodiak Oil & Gas Corp. for $3.8 billion last year, is searching for a buyer as the price of crude oil has fallen by half since July to about $50 a barrel. The company has been exploring the sale of its oil and gas processing assets in North Dakota, people with knowledge of the matter said last month.
And today the stock jumps... because who doesn't wnat to buy a company whose valuation is a mere 1043x Fwd P/E...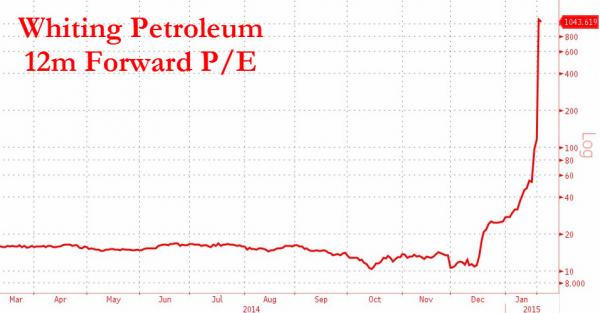 One quick question - what happens if no one wants to buy them? Two words... "massive repricing" of the entire sector. And do not forget, all of these companies have massivley exaggerated oil reserve valuation levels on their balance sheets.