Summary
Silver Wheaton has lost a lot of value in the past one month, as the probability of an interest rate hike by the Federal Reserve has increased.
Since silver is a non-interest paying commodity, it will lose value once the Fed hikes rates, as this will make Treasuries more attractive.
Silver Wheaton's margin and revenue performance is directly linked to silver prices, and a drop in the price of the metal will create more headwinds for the company.
The company's cash position is already weak, and the possible imposition of retrospective tax and penalties by the CRA to the tune of $207 million will weaken its fundamentals further.
Silver Wheaton (NYSE:SLW) has underperformed sharply in 2015, with the silver streaming company having lost over 35% of its value so far. In fact, in the past one month itself, SLW shares have lost 25% of their value as the probability of an interest rate hike by the Federal Reserve has inched closer. But, apart from the impending interest rate hike that will negatively impact silver and gold prices, Silver Wheaton has another negative to contend with that might weigh on its financial performance.
In this article, we will take a look at two reasons why investors should avoid Silver Wheaton.
Retrospective taxation will hurt its financials
In July, Silver Wheaton received a proposal letter from the Canadian Revenue Agency for the reassessment of its business operations under the Income Tax Act (Canada). The CRA believes that streaming income earned by the company's foreign units during the period 2005-2010 should be taxed retrospectively.
Now, the CRA is of the opinion that Silver Wheaton's income during this period should be increased by $567 million for taxation purposes, which will lead to federal and provincial taxes of $150 million. In addition, the company will have to bear transfer pricing penalties to the tune of $57 million. Thus, if the CRA indeed applies this tax structure, Silver Wheaton's fundamental position will worsen.
I'm saying this because its operating cash flow has already taken a hit in the past year due to weak commodity pricing, as shown below: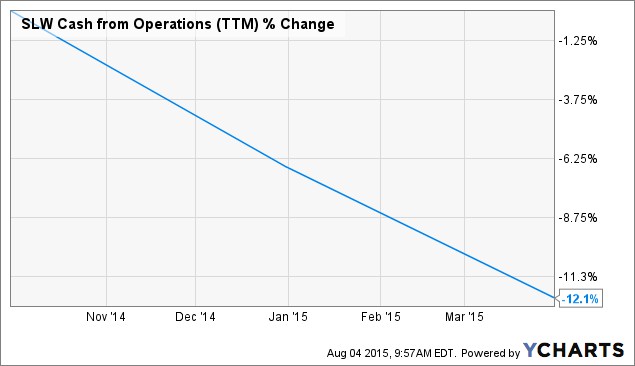 Additionally, the company's cash position is not in good shape either. Silver Wheaton has just $88 million in cash on the balance sheet, while its debt is relatively higher at $800 million. Meanwhile, in the past year, the company has generated $406 million in operating cash flow. Now, the imposition of the transfer pricing tax and the related penalty, which comes to a total of $207 million, will certainly create a dent in its financial position.
The problem is that Silver Wheaton is already struggling. In the past year, the company has seen an alarming drop in its profit margins, as shown in the following chart: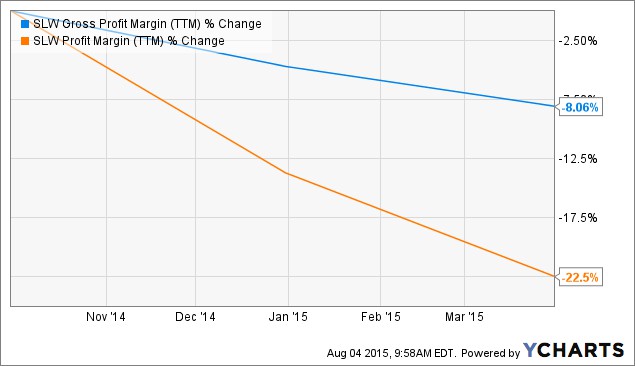 The drop in its margins is a result of weakness in gold and silver prices, which has negatively impacted the company's cash flow performance as well. Looking ahead, it is likely that the price of gold and silver will decline further, which will create more problems for Silver Wheaton.
An impending interest rate hike will create more margin pressure
The U.S. economy is growing at an impressive pace. For instance, in the second quarter, U.S. GDP growth outpaced that in the preceding two quarters, as shown in the following chart:
(click to enlarge)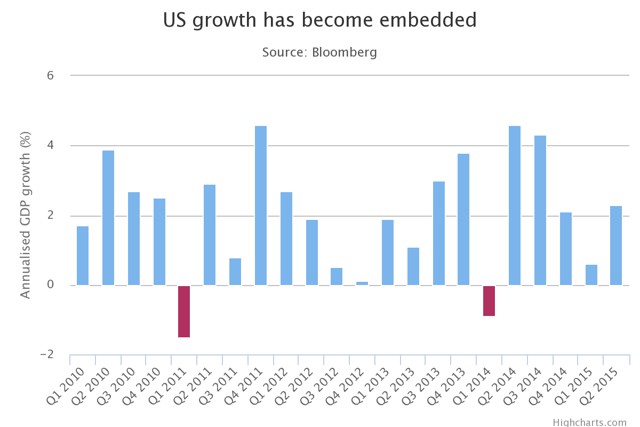 In addition, consumption in the U.S. increased by 2.9% in the second quarter, as compared to an increase of 1.8% in the first quarter. In light of these developments, it is likely that the Federal Reserve could raise interest rates soon - either in September or December. As reported by The Telegraph:
"The data came as the Federal Reserve mulls raising its key policy rate towards the end of the year. A statement released on Wednesday indicated that the strength of economic data would determine whether policymakers opted to increase that rate in September or December.

Jeremy Cook, of currency firm World First, said: "Failing a disaster in the next few job market reports, you can pencil in that September rate rise now."
Now, interest rates and prices of commodities such as gold and silver are negatively correlated, as they are non-interest paying assets. In comparison, an interest rate hike makes instruments such as Treasury bonds more desirable to invest in, as they yield a higher rate of return as compared to gold and silver. This means that investors will prefer Treasuries from an investment point of view as compared to gold and silver, reducing demand for the commodities, and ultimately hurting pricing.
This is the reason why gold fell after the latest FOMC meeting, and more downside cannot be ruled out. I'm saying this because a strengthening economy and higher interest rates mean that "dollar-priced assets such as gold out of favor as they become more expensive for buyers holding other currencies." Thus, the improving economic condition in the U.S. and an impending hike in the interest rate will have a two-fold negative impact on gold and silver pricing, creating a headwind for Silver Wheaton.
Conclusion
The shares have been beaten down badly in 2015, and more downside cannot be ruled out, as the company is facing critical problems that can hurt its business. While the review and the impending penalties by the Canadian Revenue Agency will hurt its financial position, weak silver and gold pricing will continue weighing on the company's margins. Hence, in my opinion, investors should continue to avoid Silver Wheaton, as it looks set for further downside.
More