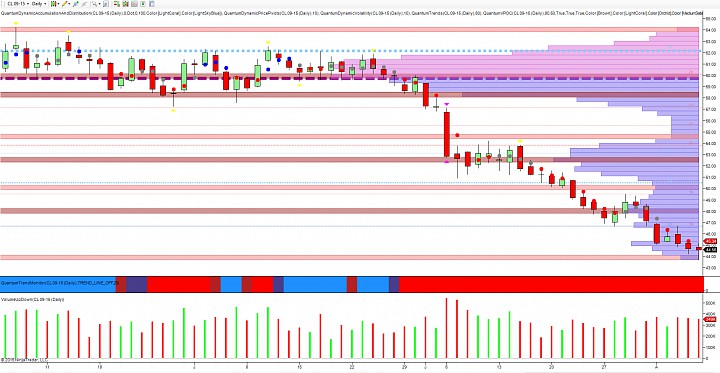 When considering the chart for crude oil, there is really only one question to answer and it is simply this – how low can it go?
To answer that particular question, we need to consider the charts across a variety of time-frames. If we start with the daily chart, the self evidence of the bearish picture speaks for itself, with the VPOC (volume point of control) remaining firmly in the $59.80 per barrel region, with the transacted volumes at this level confirming the sustained pressure that has been driving oil prices ever lower.
Since early June we have seen oil's price find some support on the high volume node at $52.50 per barrel, before continuing to move lower once again, through the low volume node at $50 and down to the next high volume node at $48 per barrel, where prices paused once again. Finally, towards the end of July, the price of oil broke below this node to approach the low volume node now waiting in the $44.00 per barrel region, with the market closing just below at $43.70 per barrel.
Given this is a low volume node, we can expect to see this breached...
More