Following last night's double-disappointment - the absence of China's 'National Team' and the lack of moar from The BoJ, everything was not awesome when Asian markets closed. However, dismal US data has floated all boats on a sea of bad-news-is-good-news as the world holds its breath ahead of Thursday's Fedsplosion. China's weakness is spreading as Aussie Leading Index plunges most in 3 years. Trading volumes remain de minmus as 1300 hedge funds have liquidated in China in recent weeks (as the $800,000 Tibetan Mastiff bubble bursts). Tonight Japan opens with selling pressure ands China bouncing modestly higher, but it's quiet, too quiet. PBOC devalued Yuan for the first time in 4 days but one local Chinese trader opined confidently ahead of The Fed, "Mother PBOC is so worried there could be a liquidity problem that it will ensure abundant supply."
Last night's Japanese open was an epic meltup in USDJPY and NKY 225 (only to give it all back when The BoJ did not "get back to work"). Tonight it starts with "malicious selling" but that was quickly ramped.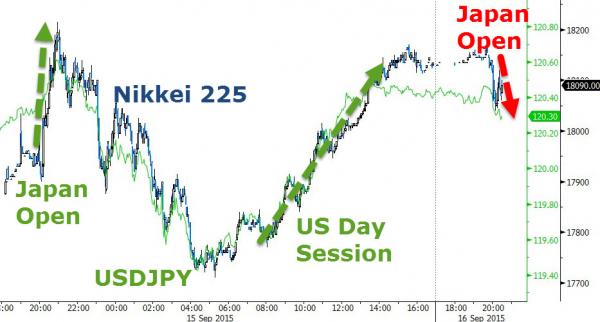 Aussie markets are unhappy as The Westpace leading Index collapsed by the most in 3 years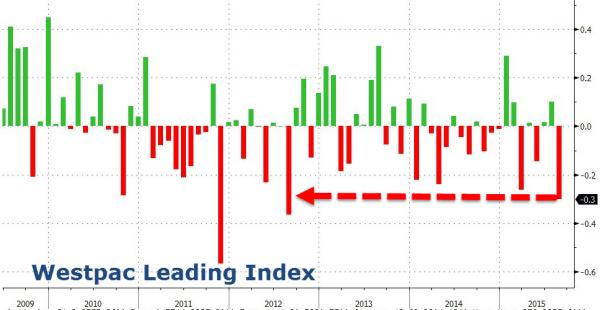 China opens with an idea...
*CHINA TO PROMOTE COS.' OVERSEAS DEBT REGISTRATION REFORM
*CHINA NDRC TO REMOVE QUOTA FOR COS.' OVERSEAS DEBT
*CHINA TO ENCOURAGE QUALIFIED COS. TO SELL BONDS OVERSEAS
Which will lower the cost of borrowing (great), ensure some USD liquidity (easing PBOC pressures perhaps), but will leave Chinese corporates exposed to a devaluing Yuan (un-great).
And then unleashes some propaganda (it's unpatriotic to move your money overseas...)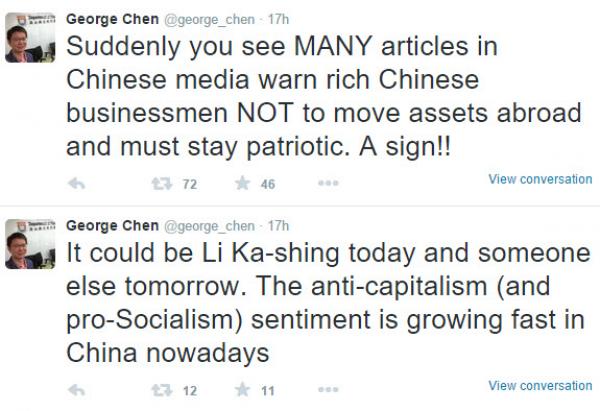 Margin debt declines once again as Chinese Stocks push lower amid the asbence of The National Team...
*SHANGHAI MARGIN DEBT BALANCE DROPS TO LOWEST IN NINE MONTHS
Shenzhen and ChiNext are getting slammed this week...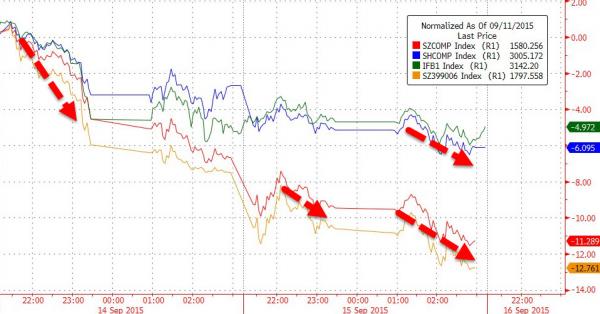 With a small bounce in the pre-market:
*FTSE CHINA A50 SEPT. FUTURES ADVANCE 1.3%
*CHINA'S CSI 300 STOCK-INDEX FUTURES RISE 1% TO 3,161.8
PBOC stepped back in and devalues Yuan after 3 days of strengthening...
*CHINA SETS YUAN REFERENCE RATE AT 6.3712 AGAINST U.S. DOLLAR
More bad news for US automakers:
*FITCH: CHINA AUTO SECTOR MOVES INTO NEW NORMAL OF SLOWER GROWTH
New-car sales in China may decline for the first time in more than a decade this year, as a slowing economy combines with a clampdown on lavish spending, stricter registration limits and stock-market volatility. The slowdown and unprecedented discounts dragged on the eight Chinese car dealers trading in Hong Kong, with combined net income falling by 29 percent in the first six months.
And the death of liquidity in Chinese stock futures markets have rung the bell on the newly minuted Chinese hedge fund industry (as Bloomberg reports)...
It's about to get even uglier for China's hedge funds.

 

The newfangled industry, short on expertise and ways to protect itself from market declines, has seen almost 1,300 funds liquidate amid China's $5 trillion stocks selloff, and a similar number may be at risk, according to Howbuy Investment Management Co. Now, a government crackdown on short selling and other hedging strategies have made prospering in a bear market difficult.

 

It's an inglorious turn for China's on-again, off-again love affair with stocks, which saw the number of hedge-fund-like vehicles explode in past years as the government made it easier to register funds and introduced new financial instruments. The market rout -- and the regulatory response to it -- has revealed cracks in the industry that suggest it may need years to recover. In the most devastating blow to domestic hedge funds, China has imposed new restrictions on trading in stock-index futures, a key investment strategy to dampen volatility and avoid big losses.

 

"It spells the end, at least temporarily, for China domestic hedge funds," Hao Hong, chief China strategist at BOCOM International Co. in Hong Kong, said in an interview.
But it is another bursting bubble that everyone is talking about... If this does not sum up the farce of China, I do not know what does...
"The Tibetan mastiff market went crazy in 2008 when some investors, instead of dog lovers, hyped the price among rich people," he said. "The price was not reasonable at all."

 

Many newly rich Chinese such as coal mine owners who became extremely wealthy during the price hike in commodities between 2006 and 2008 started to buy such a dog as a pet.

Different from dog lovers and professional breeders, they did not have the inside knowledge about such dogs, including how to tell a real one from the mixed-blood species and even other similar kinds. As a result, the market was full of so-called Tibetan mastiffs with prices as high as 5 million yuan ($793,650) to 10 million yuan for one such dog.

"Even if they paid a lot, the dogs they got were still not pure-bred Tibetan mastiffs," Peng said.

However, the market still created many millionaires at the time. Some people began to trade so-called Tibetan mastiffs as a business.
It appears The Chinese just cannot help themselves.
But it is next week's big event that is the real deal... (post-FOMC)...
*CHINA'S XI TO VISIT U.S. SEPT. 22-25
China's President Xi Jinping will visit Washington Sept. 25, the White House confirmed in a statement released late Sept. 15.
The widely anticipated official state visit reciprocates President Barack Obama's state visit to China in November 2014. The White House said Xi's visit "will present an opportunity to expand U.S.-China cooperation on a range of global, regional, and bilateral issues of mutual interest" and will allow Obama and Xi to "address areas of disagreement constructively."
Finally, we leave it to one local Chinese trader to sum up the "we have faith" attitude that somewhow still remains... (as MNI reports)
"Mother PBOC is so worried there could be a liquidity problem that it will ensure abundant supply -- liquidity is super good now so we can sit back and relax," said said Qin Xinfeng, a trader with Qingdao Rural Commercial Bank.
But the Fed hike will nonetheless push global and Chinese markets into unknown territory.