Ten years ago Steven Sugarman, a former Lehman Brothers investment adviser, co-wrote a book on how to avoid stock losses. One of its top tips: "Beware of companies run by family and friends."
Now, Sugarman is chief executive officer of the fastest-growing publicly traded U.S. bank -- a lender exhibiting some of the red flags listed in his book. Banc of California is riding high enough to pay $100 million for the naming rights on Los Angeles's new soccer stadium, one of the richest prices ever in Major League Soccer. Sugarman's brother is a minority investor in the team, marking the latest in a series of deals involving the CEO's family and associates.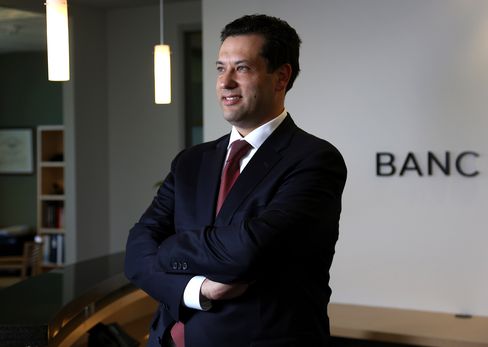 Banc of California is an outlier among legions of small banks that struggled to regain their footing after the global financial crisis. Since Sugarman helped recapitalize the company in 2010, its assets have soared more than tenfold to $10.2 billion as of midyear, fueled by acquisitions. (Tip No. 4 in Sugarman's book: "Beware of companies that go on buying binges.")
At 41, he's the youngest CEO among the more than 100 U.S. banks with a market value exceeding $1 billion, according to data compiled by Bloomberg. And he's generating the highest return for shareholders in that group -- about 56 percent this year, on top of 32 percent in 2015. (Tip No. 8: "Beware too much focus on stock price.")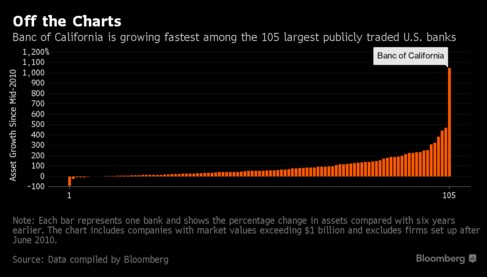 The bank has drawn big investors including Oaktree Capital Management and counts former Los Angeles Mayor Antonio Villaraigosa as an adviser. And the market-beating returns have come despite misgivings expressed over the years by one of the bank's biggest shareholders, academics and community activists over deals benefiting Sugarman's family and board members. Institutional Shareholder Services, an adviser to investors, credits the bank's auditing but gives the firm's overall governance risk the worst grade on the scale. (Tip No. 7: "Listen to the skeptics.")
Sugarman, in an interview, said the Irvine-based bank will keep pursuing opportunities that optimize returns even if that means more related-party transactions. The bank details them in regulatory filings, noting they've been vetted by the board. To a degree, such deals are inevitable, he said, because the board and executive team are almost never more than "one to two degrees of separation" from leaders in Southern California's business community.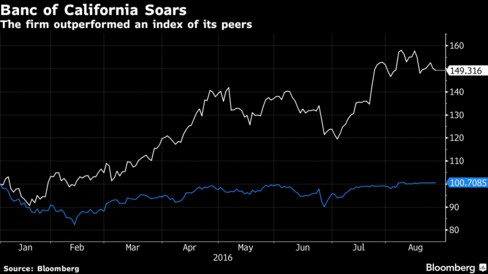 "It's our backyard, it's our hometown and the return on this investment is something we're pretty excited about," he said of the stadium deal in an interview from Bloomberg's offices in Los Angeles. Any time potential conflicts arise, the bank will "manage them, we'll make sure they're done right and we'll make sure there's full disclosure."
A company spokesman, Cale Ottens, said Sugarman's brother Jason -- one of more than two dozen investors in the Los Angeles Football Club -- had no involvement in the stadium deal. Jason Sugarman didn't respond to messages seeking comment. Nor did Jason Sugarman's father-in-law, Hollywood executive Peter Guber, a fellow owner who...
More