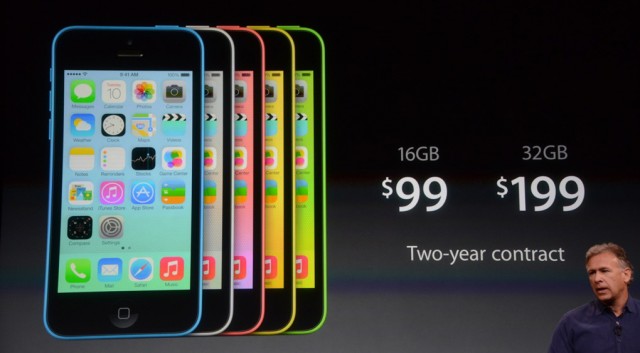 Unless you have been living under a rock for the past few months, you know that Apple (NASDAQ:AAPL) released iPhone 5S and the cheaper iPhone 5C yesterday at an event in California. In addition they introduced iRadio, covers for the iPhone 5C, and iOS 7.  
After the announcement, the stock dipped then rebounded and then dipped again. Today the stock opened about 5% lower than yesterday, a steep drop. Wow! Not a good response to the new product. Why? Well people that I have spoken too would not be caught dead with the iPhone 5C. Other like it, its colorful and gives you a lot of options to dress it up.
So is this a good business strategy? Normally, the company would discount the  old iPhone, in this case the iPhone 5, once the new iPhone was released. Instead they replaced it with the 5c. The 5c is supposed to compete with other cheaper smartphones, it is $100 cheaper than the 5S with a contract.  The phone is also supposed to be built to compete in emerging markets, the problem is that it is not that cheap, it costs $549 for the 16 GB version. Since carriers in emerging markets do not subsidize phones like in the US it could be a problem.
In general, we should not jump to conclusions. We need to watch and wait. What is you take?