(WSJ.com) Verizon Communications Inc. has agreed to pay $4.8 billion to acquire Yahoo Inc.,according to a person familiar with the matter, ending a drawn-out auction process for the beleaguered internet company.
The price tag, which includes Yahoo's core internet business and some real estate, is a remarkable fall for the Silicon Valley web pioneer that once had a market capitalization of more than $125 billion at the height of the dot-com boom.
For New York-based Verizon, the deal simply adds another piece to the digital media and advertising business it is trying to build.
The deal is expected to be announced early Monday. The news was earlier reported by Recode and Bloomberg.
Verizon plans to keep the Yahoo brand, according to a person familiar with its plans. (Full article at WSJ.com)
Both Verizon (VZ) and Yahoo (YHOO) have bullish signals ahead of the expected announcement on  Monday (7/25). Let's see if the news will give both of them a boost to extend their rallies.

VZ Daily Chart 7/25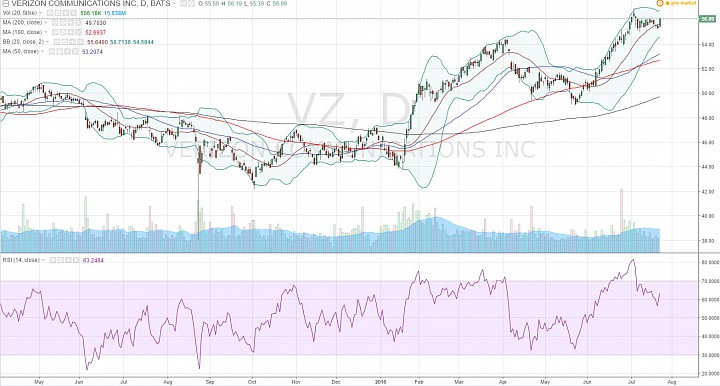 (click to enlarge)
Verizon already on a bullish continuation mode:
- We can see that Verizon was bullish this year other than a 2-month bearish correction in April and May. 
- It appears that it is in its stride expect for a consolidation we are seeing now in July.
- Price action last Friday suggested that VZ is ready for bullish continuation. 
- Let's see how the market reacts. I think if price holds above 55, we have a strong bullish outlook with the 60 handle in sight. 

YHOO Weekly Chart 7/25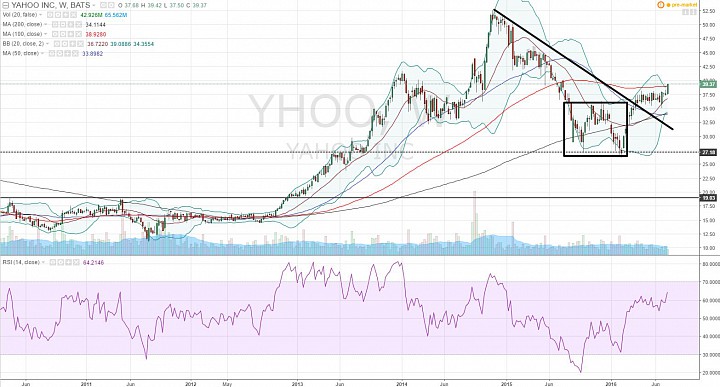 (click to enlarge)

Bullish reversal in play:- 
- As we can see in the daily YAHOO chart, there has been a bullish reversal development. 
- Price double-bottomed then broke above a falling trendline. 
- The RSI has broke above 60, which reflects loss of the prevailing bearish momentum.
- Price consolidated between roughly 35 and 38. 
- Last week, price broke above this consolidation range clearly. 
- YHOO seems to have at least 46 in sight; 46 will be a critical support/resistance pivot.