Silver (XAG/USD) price has flattened since rallying to 21.10 at the start of July. 

Silver (XAG/USD) 4H Chat 8/11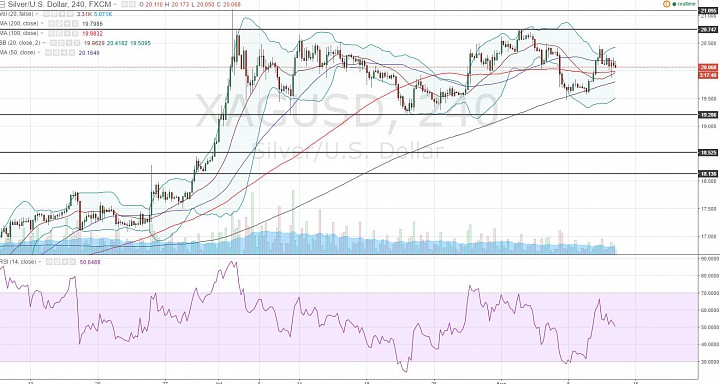 (click to enlarge)

Consolidation range:
- The 4H chart shows that silver price has been trading between roughly 19.20 and 20.75. 
- The prevailing bullish bias can be see as price holds above the 200-period simple moving average (SMA)
- However, failure of price to push to 20.75 during the 8/10-8/11 session shows lack of bullish momentum.
- As price hangs around 20.00, I think we just have to wait for a breakout. 

Buy at support, but avoid selling at resistance:
- When I see a consolidation range after a bullish run, I consider the prevailing bullish bias.
- This means if price dips to 19.20-19.50 consolidation support area, I would consider buying.
- However, if price is in the 20.50-20.75 resistance area, I would avoid selling.
- Baked in this strategy is the expectation that in the long-run, these types of technical set-ups will tend to break to the upside. 

Targets:
- The bullish outlook has an aggressive target of 26-26.10, which was a critical support pivot since 2011 that was eventually broken in 2013. 
- If price breaks below 19.20, we can anticipate a pullback towards 18-18.10, with the aggressive outlook being the 17.00 handle.
- If price does fall to 17.00, it will likely be challenged by a rising trendline.