ResMed Inc. RMD is slated to report fourth-quarter fiscal 2017 results, after markets close on Aug 1.
Last quarter, the company delivered a positive earnings surprise of 1.4%. The four-quarter average earnings beat is 1.0%. Let's see how things are shaping up for this announcement.
Factors at Play
Management expects SG&A expenses margin in the band of 26%–27% in the yet-to-be-reported quarter, while it was 26.8% in third-quarter 2017. Also, R&D expenses margin is projected at 7% for fourth-quarter 2017 as compared to 6.8% of the preceding quarter. Hence, we expect the bottom-line drag to continue in the yet-to-be reported quarter.
ResMed Inc. Price and EPS Surprise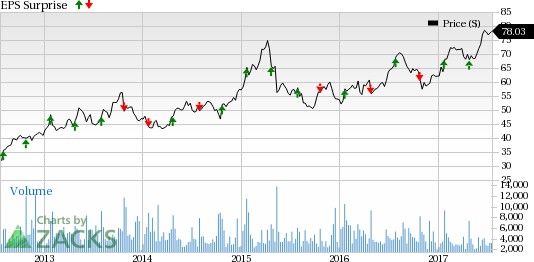 Meanwhile, the company generates a significant portion of its revenues from international markets. Notably, in the last reported quarter, currency impacted ResMed's combined EMEA and Asia-Pacific revenues by 3%. This is likely to dent results in the fourth quarter as well.
Moreover, overall macroeconomic uncertainty is a major obstacle when it comes to the company's international operations.
Also, the market for sleep-disordered breathing (SDB) products is highly competitive with respect to product price, features and reliability. Other challenges like competitive bidding and reimbursement pressure continue to hurt the stock.
On the brighter side, an expanding chronic obstructive pulmonary disease (COPD) market is a huge opportunity for ResMed. In line with this, the company released positive data pertaining to a clinical trial related to its Home Oxygen Therapy - Home Mechanical Ventilation (HOT-HMV). The results demonstrated that COPD patients who received non-invasive ventilation (NIV) at home with oxygen therapy had a 51% decreased risk of re-hospitalization or death, and stayed out of the hospital more than three times longer, compared to those who received oxygen alone. The company's current endeavors to gain traction in the COPD market are expected to boost revenues.
Further, as a major breakthrough in the treatment of sleep apnea, ResMed introduced AirTouch F20 full face mask with UltraSoft memory foam, which keeps patients on CPAP therapy comfortable throughout the night. AirTouch F20 is available in the U.S. and Canada now which is expected to drive the company's top line in the yet-to-be reported quarter.
ResMed's efforts to expand its business internationally are encouraging.The company's revenue performance across all segments in the reported third quarter of 2017 was impressive. We expect the company to maintain a similar trend in this quarter.
ResMed's estimate revision trend is also encouraging. For the current year, the company saw one estimate move north with no movement in the opposite direction over the last one month. This has taken the current year estimate from $2.79 to $2.80 over the same period.
Earnings Whispers
Our proven model does not conclusively show an earnings beat for ResMed this quarter. That is because a stock needs to have both a positive Earnings ESP and a Zacks Rank #1 (Strong Buy), 2 (Buy) or 3 (Hold) for this to happen. That is not the case here, as you will see below.
Zacks ESP: ResMed has an Earnings ESP of 0.00%. That is because both the Most Accurate estimate and the Zacks Consensus Estimate are pegged at 75 cents. You can uncover the best stocks to buy or sell before they're reported with ourhttps://www.zacks.com/premium/esp-buy?adid=zp_article_espfil..."> Earnings ESP Filter.
Zacks Rank: ResMed has a Zacks Rank #2, which increases the predictive power of ESP. However, the company's 0.00% ESP makes surprise prediction difficult.
Meanwhile, we caution against stocks with a Zacks Rank #4 or 5 (Sell-rated) going into the earnings announcement, especially when the company is seeing negative estimate revisions.
Stocks to Consider
Here are some companies you may consider as our model shows that they have the right combination of elements to post an earnings beat in the upcoming quarter:
Becton, Dickinson and Company BDX has an Earnings ESP of +0.41% and a Zacks Rank #2.
Thermo Fisher Scientific Inc.TMO has an Earnings ESP of +0.44% and a Zacks Rank #2. You can see https://www.zacks.com/stocks/buy-list/?ADID=zp_1link_invidea...">the complete list of today's Zacks #1 Rank stocks here.
Stryker Corporation SYK has an Earnings ESP of +0.66% and a Zacks Rank #2.
Will You Make a Fortune on the Shift to Electric Cars?
Here's another stock idea to consider. Much like petroleum 150 years ago, lithium power may soon shake the world, creating millionaires and reshaping geo-politics. Soon electric vehicles (EVs) may be cheaper than gas guzzlers. Some are already reaching 265 miles on a single charge.

With battery prices plummeting and charging stations set to multiply, one company stands out as the #1 stock to buy according to Zacks research.
It's not the one you think.
Want the latest recommendations from Zacks Investment Research? Today, you can download 7 Best Stocks for the Next 30 Days.
Click to get this free report
Thermo Fisher Scientific Inc (TMO): Free Stock Analysis Report
Stryker Corporation (SYK): Free Stock Analysis Report
ResMed Inc. (RMD): Free Stock Analysis Report
Becton, Dickinson and Company (BDX): Free Stock Analysis Report
To read this article on Zacks.com click here.
Zacks Investment Research