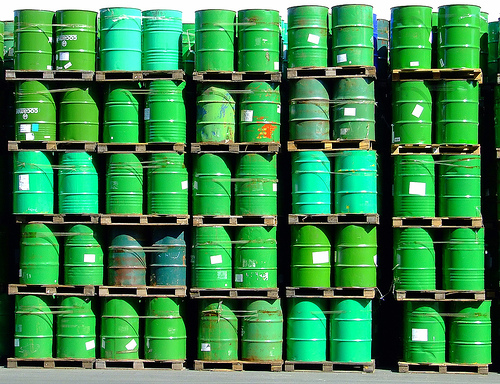 Image Credit: Flickr
Since November, Americans have enjoyed inexpensive gas to fill up their cars and possibly, lower heating bills during the coldest winter months. The oil price decrease is due to a large, and still growing, stockpile of U.S. crude oil, resulting in smaller demands for foreign oil.
For the past ten years or so, oil prices have remained for the most part steady at around $75-$120 per barrel, except for a dip below $40 in 2008 and making a quick turnaround in the months after. In November 2014, oil prices sank again, eventually hitting about $50 per gallon.
Oil prices currently rest at $50 for Brent crude oil and $48 for US, BBC reported.
Currently, the United States produces more than 9 million barrels of crude oil per day. Over the past decade, oil companies ramped up production of drilling and fracking operations, contributing to a crude oil stockpile now teetering over 417.9 million barrels.
Although the U.S. consumers are experiencing lower prices, this stockpile growth and cost reduction, major oil exporting countries are seeing large margin decreases in revenue.
Energy exporting countries like Russia, Saudi Arabia and Venezuela are experiencing revenue deficiencies leaving these oil powerhouses at a crossroads: either cut production to increase demand or continue on in the hopes the prices with level off quickly.
Russia was hit especially hard by these low prices, and made worse by western sanctions for the communist country's involvement with separatists in Ukraine.
"If we cut, the importer countries will increase their production and this will mean a loss of our niche market," Russian Energy Minister Alexander Novak said, according to the BBC.
Saudi Arabian Oil Minister Ali al-Naimi stands firm in his decision to not cut production. OPEC's production standard will remain at 30 million barrels per day.
"Whether it goes down to $20, $40, $50, $60, it is irrelevant," he said. 
BBC reported Saudi Arabia ideally needs oil prices per barrel to level off at $85, however, the country is holding onto $700 billion in reserve funds and can withstand the decrease in prices for a fixed amount of time.
Currently in Venezuela, the inflation rate is running about 60 percent, and has no plans to cut production, as well.
"I've considered as head of state, that the moment has not arrived," Venezuela President Maduro said. "There's no rush, we're not going to throw more gasoline on the fire that already exists with speculation and induced inflation."