Puma Biotechnology, Inc. PBYI shares rose more than 7% in after-hours trading on Monday after the company announced that the FDA has approved of its lead breast cancer candidate neratinib. Puma Biotech expects to make the drug commercially available in September under the brand name Nerlynx.
Nerlynx, a once-daily oral tyrosine kinase inhibitor, has been sanctioned as an extended adjuvant treatment for patients with early-stage HER2-overexpressed/amplified breast cancer, who have also been previously treated with Roche Holding AG's RHHBY Herceptin (trastuzumab)-based adjuvant therapy.
Notably, Nerlynx is the first anti-HER2 treatment to be approved of by an extended adjuvant therapy for the aforementioned indication.
The company has significantly outperformed the Zacks categorized Medical-Biomed/Genetics industry so far this year. The stock has soared 204.1% compared with the broader industry's advance of 8.7%.

The approval was supported by a phase III two year ExteNET study in which, patients who had been previously treated with Herceptin-based adjuvant therapy for a year, were administered continuous therapy with Nerlynx for another year.
Data from the study showed that within two years after treatment with Nerlynx, the patients demonstrated a statistically significant relative reduction of 34% in the risk related to invasive disease recurrence. In fact, the invasive disease-free survival (iDFS) was 94.2% in patients treated with Nerlynx as against 91.9% in those receiving placebo.
We remind investors that in Jul 2016, Puma submitted an NDA to the FDA for Nerlynx which was accepted in Sep 2016. Subsequently in May 2017, the company announced that the FDA's Oncologic Drugs Advisory Committee (ODAC) has voted 12-4 to recommend the approval of Nerlynx for the given indication.
Nerlynx is also under review in the EU for same disease. Several additional studies on Nerlynx targeting different types of breast cancer patient populations are currently underway. Puma believes that Nerlynx can also be developed for treatment of other cancers, including non-small cell lung cancer (NSCLC) and other tumor types that over-express or have a mutation in HER2.
Per the company, breast cancer is the second leading cause of cancer-related deaths in women across the world. Approximately one in five women diagnosed with breast cancer worldwide is expected to be afflicted with HER2-positive type, a particularly aggressive form of the disease.
About 25% of HER2-positive early-stage breast cancer patients treated with Herceptin-based adjuvant treatment experiences a recurrence. Hence, the consent for Nerlynx is considered a huge boost for Puma, as it is expected to address the hugely unmet medical need of patients experiencing the relapse of the disease.
Though HER2-positive breast cancer market provides immense commercial potential, Nerlynx is set to face an intense competition, upon approval. Permitted treatments include Roche's Herceptin, Perjeta and Kadcyla, GlaxoSmithKline plc's GSK Tykerb and Novartis AG's NVS Kisqali.
Therefore, quite a few companies are working to bring about cancer curative treatments to the table, targeting this particular malady in the market. However, Nerlynx looks promising on the list at this juncture with an FDA approval.
Puma Biotechnology Inc Price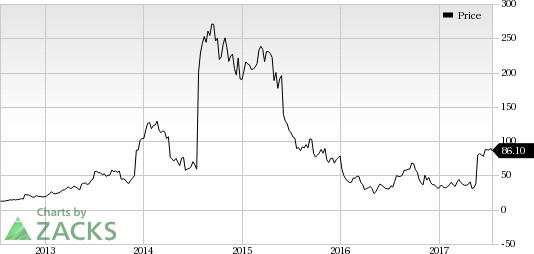 Zacks Rank
Puma currently carries a Zacks Rank #4 (Sell). You can see the complete list of today's Zacks #1 Rank (Strong Buy) stocks here.
5 Trades Could Profit "Big-League" from Trump Policies
If the stocks above spark your interest, wait until you look into companies primed to make substantial gains from Washington's changing course.
Today Zacks reveals 5 tickers that could benefit from new trends like streamlined drug approvals, tariffs, lower taxes, higher interest rates, and spending surges in defense and infrastructure. See these buy recommendations now >>
Want the latest recommendations from Zacks Investment Research? Today, you can download 7 Best Stocks for the Next 30 Days.
Click to get this free report
Roche Holding AG (RHHBY): Free Stock Analysis Report
Novartis AG (NVS): Free Stock Analysis Report
GlaxoSmithKline PLC (GSK): Free Stock Analysis Report
Puma Biotechnology Inc (PBYI): Free Stock Analysis Report
To read this article on Zacks.com click here.
Zacks Investment Research