Strong demand, both domestic and internationally, for petroleum products is allowing US refineries to refine more oil than ever before. Domestic demand for petroleum products through the first five months of 2015 was 2.5% higher than in the same period last year, with demand for motor gasoline up 2.9%. Exports are up 19% versus last year over that time period [through May], reflecting strong global demand and America's competitiveness in the petroleum export industry due to cost-advantaged sources of crude and natural gas. 
Being able to source cheaper oil and natural gas relative to their international peers allows US refiners to have a major leg up over its competition. WTI, West Texas Intermediate, has been trading at a ~$5 discount to Brent, the international pricing benchmark for crude oil. Henry Hub, America's natural gas pricing benchmark, is trading at just a fraction of global prices with regional prices around particular shale plays [Marcellus/Utica especially] coming in even lower.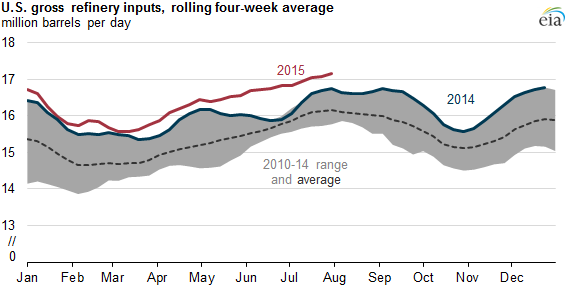 When the summer driving season ends, US refinery inputs will fall from 16.7 million bo/d currently [expected average from April to September] to 16.2 million bo/d by Q4 2015 [October to December] to 15.8 million bo/d by the first quarter of 2016, according to the EIA. However, demand will pick back up starting in late-March to April 2016, with the EIA seeing US refinery inputs averaging 16.9 million bo/d by Q3 2016, 200,000 bo/d more than this year. It will be up to exports to pick up the slack when US demand dips until then.
Thanks for reading. If you want to read more about the energy industry click here, and don't forget to press like at the bottom!