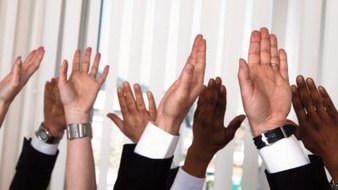 President Trump's promises of tax reform, business deregulation and infrastructure spending are not the only catalysts driving micro-cap
and small-cap stocks. The current micro-cap environment is ripe for shareholder activism and can help expand the valuation of quality "growth + value" micro-cap stocks. After seeing our calls to action ("CTA") rise an average of 32% in 2016, our micro-cap performance through the first quarter of 2017, 23.75%, is setting the tone for a great year.
Media Creates Inefficiencies You Can Exploit
The lack of broad and consistent participation of micro-caps during this 7+ year bull market has led to inconsistent returns in the micro-cap space, frustrated investors and depressed valuations in the stocks of many quality companies. Stock picking is being portrayed as a lost art. The media keeps pouring cold water on the dreams of stock pickers and young fund managers by talking about the rise of mindless ETFs and at times questioning short-term under-performances by iconic value investors such as Warren Buffett. C'mon, man!
The severity of the 2008 global recession was second only to the 1929 Great Depression. With an event that devastating, it could take years to repair the damage inflicted upon old investors and invite a new army of young investors to the "game". I look at this as a half glass full point of view in that we have a long run way ahead of us.
I'm sorry, Mr. CNBC, nothing has the potential to last forever except for regret and ignorance. The more negative rhetoric you spread, the more inefficiency you will create, which benefits good stock pickers when the pendulum swings.
The Micro-Cap Problem – Environment Became Messy
The aftermath of the 2008 global recession and 2010 Flash Crash ("fat finger") events removed critical pieces of the puzzle that had historically expedited value creation in micro-caps. The Flash Crash was like a nail in the coffin, because up until that point, I was observing a return to market normalcy. No one really talks about it, but I really point my finger at the Fat Finger dip as a huge reason why many retail investors remained and returned to the sideline.
The number of retail investors allocating capital to micro-caps has clearly been diminished since 2008. This has taken away "the first move" phase in micro-cap stock price appreciation, where retail investors push up shares to prices and market caps that would attract institutions who could not invest at certain price levels and market caps. This is even more critical now, because funds that once were potentially able to buy micro-caps now have steeper market value restrictions. Additionally, brokerage firms now make it more difficult for investors to buy micro-caps or over the counter (OTC) stocks. Sometimes, you even need to phone in a micro-cap buy order if you have accounts with discount brokerage firms like E-Trade and TDAmeritrade. Come on guys, it's 2017: we need to make microcap investing accessible to everyone.
When you add the fact that pooled investments now represent 2/3 of trading volume vs. as low as 1/3 of the volume prior to 2008, you...
More