An avid fan of Warren Buffett's Berkshire Hathaway Inc. (NYSE:BRK.A) (NYSE:BRK.B) annual report, long-time financial editor Norman Pearlstine says in Fortune that this 2014 report from advertising giant WPP – celebrating 30 years of Martin Sorrell's leadership – "may be the best annual report I have ever read."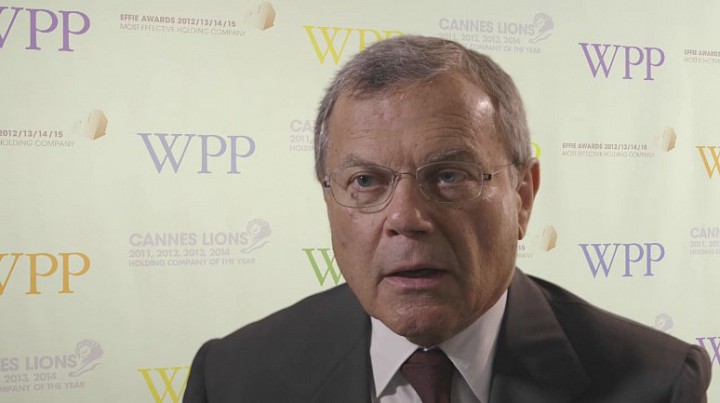 WPP Directors' report: How we behave and how we're rewarded
Dear share owner
Another record year for WPP." Fellow share owners, I suspect, do not tire of such repetition in these Annual Reports. And all our people across the globe should take justifiable pride in 2014's robust financial performance, impressive client wins and – for yet another straight year – the very top international creative and effectiveness awards.
Another thought, however, preoccupies me this year.
"Nothing is different, but everything's changed." Hackneyed, certainly; but a poignant refrain in the lyrics of a Paul Simon song. And as my 14-year-period as chairman of this Company concludes, that notion prompts several central questions for me. Transition of a non-executive chairman warrants minor note, but might be, for some share owners, a punctuation point that stirs the same reflection.
A cynic, hastily reviewing our business from 2001 through today, might edit the phrase to "Everything's different, but nothing has changed." Admittedly, the communications services industry, as well as its geopolitical and economic context, are extraordinarily different. And WPP may appear to remain a small central administration overseeing legions of far-flung corporate tribes and associates. With the same chief executive.
But that view massively misses the mark. Having had the privilege of serving as your Company's chairman for almost half of its life, I find today's WPP to be a vastly different business. Strikingly, however, some fundamentals have not changed.
The differences since 2001 are stunning:
billings have more than doubled to £46 billion;
revenues have grown from £4.0 billion to £11.5 billion;
headline profit before tax has trebled, from £500 million to £1.5 billion;
our market capitalisation has increased from £8.7 billion, and from the 2008 low of £5.0 billion, to £20.5 billion;
the size of our workforce (including associates), has grown from 65,000 to 179,000;
the number of offices is up from 1,400 to 3,000; and countries in which they are located, from 103 to 111;
the number and breadth of our environmental, corporate social responsibility and employee training and welfare programs now overflow their own, thick annual report;
our dividend per share has increased from 4.50p to 38.20p; and our dividend payout ratio, then 15%, now stands at 45%;
Data Investment Management and direct, digital and interactive services have grown from 35% to 50% of revenues;
digital-related services, then 5%, are now 36% of total revenues;
over this 14-year period, WPP has invested some £8 billion in 700 acquisitions; and
WPP was honored to be included (and the only advertising or marketing services company listed) in Forbes' 2015 list of The Best Companies to Work For.
"Different," indeed. In fact, led in these years by a singularly tireless and entrepreneurial chief executive, this enterprise has been literally transformed: a transformation resulting from prescient evolution of strategy and painstaking management execution. WPP's value, to clients and investors alike, has thereby been enhanced beyond even these numbers.
'New markets,' 'new technologies,' as well as 'media and data investment management' are now fixtures of the industry lexicon. Yet amidst the earliest mentions of 'BRICs' and long before general recognition of 'the digital age,' your Company's investments and hires pioneered the embrace of fast-developing economies, emerging technologies and innovative services.
In 2001, operations in Mongolia and Myanmar – where WPP now operates – were improbable. Fourteen years ago, an automated media trading platform – our Xaxis today – and high-tech partnerships – like ours with AppNexus, Rentrak and COMSCORE, Inc. (NASDAQ:SCOR) – would have been regarded as futuristic fiction. Back then, some 65 acquisitions or strategic investments in one year – as we accomplished in 2014 – would have seemed preposterous. Rendering no fewer than four of our marketing and communications services to more than 500 clients was an ambitious dream until our recent years' focus on 'horizontality.' Even only a few years ago, the magnitude of, and insights from, 'big data' – today's WPP's capacity to integrate our substantial proprietary data with voluminous market and consumer data from other sources – were fanciful notions.
Amidst the earliest mentions of 'BRICs' and long before general recognition of 'the digital age,' your Company's investments and hires pioneered the embrace of fast-developing economies, emerging technologies and innovative services
These landmark differences illustrate the continuous, consistent evolution of WPP's strategy. They evidence current industry leadership. They represent an unparalleled reservoir of competencies to assist clients in communicating their messages and marketing their products. They, and hundreds of similar examples, constitute the core of your Company's unique positioning for continued growth and profitability.
Just as new technologies, new media, new markets and new players have transformed WPP's business, your Board's composition is significantly different. A mandatory retirement policy for non-executive directors instituted; appointment of 10 new directors, including my successor, completed; and the phased retirement of nine long-serving directors underway: your Board – global, independent and experienced in highly relevant commercial arenas – has been refreshed for a new era.
Although my intent, as I stated in the 2013 Annual Report, had been to retire from this post in December 2014, I agreed, at the Board's request, to continue through the appointment of my successor. In Roberto Quarta, it has selected a seasoned non-executive chairman of FTSE companies, successful investor and respected, former chief executive. Subject to share owner approval, he will assume the chairmanship at the conclusion of the 2015 Annual General Meeting.
Your Board – global, independent and experienced in highly relevant commercial arenas – has been refreshed for a new era
What's not changed? WPP's most recent achievements reflect several enduring commitments. Foremost is to serve clients creatively and effectively. And by those standards, our fourth consecutive top Cannes prize for advertising holding companies and yet another Effie as Most Effective Holding Company best illustrate how the industry itself ranks your Company.
In the provision of such client services, there has been not the slightest easing of WPP's intense management discipline. That principally explains how – buffeted by economic winds, a currency roller-coaster and fierce competition – your Company has continued this string of record years' financial performance. And for enhancement of both our services and our controls, we have undertaken a seven-year, £1.25 billion IT initiative to modernise back-office operations and expand our capabilities in the use of 'big data' and analytics.
Has the Company's commitment to its share owners changed?
Like Domino's, WPP continues to 'deliver.' Your Board has boosted dividend growth by hitting our 45% dividend payout ratio target one year ahead
Like this article? Sign up for our free newsletter to get articles delivered to your inbox
of schedule. In the past five years, share owners' aggregate return – taking into account share price appreciation, dividends and share buy-backs – has totalled £12.8 billion.
What's not changed about your Company's governance?
The full Board of Directors, not merely the Audit Committee, is still deeply engaged in risk management. Meeting over two days, six times each year, the entire group – beyond fiduciary requirements, finance and treasury responsibilities, and customary practices – examines, at each session, the list of WPP's top 100 clients, evaluates the business environment for dozens of the major WPP businesses, reviews scores of personnel changes and succession plans, and challenges management on potential torpedoes or side-swipes.
From every evidence, there has been no change, except possibly for even the better, in the experience and independence of your Board. Our share owners will find in these relatively new non-executive directors the wisdom, discipline, diversity, and vision necessary to challenge and support management, seize opportunities, make tough choices, honour commitments to our people and the clients and places WPP serves, and act in your best interests.
A noteworthy change over these 14 years, since none of our leadership is getting any younger, has been the emphasis on succession-planning. All business leaders named in this report, other senior talent, and 'rising stars,' and the relevant succession options for each of their roles, are reviewed by the full Board. As to this process, we insist on confidentiality; yet it has become, especially in the past seven years, steadily more rigorous and comprehensive.
If so much is different, why has there not been a change of CEO?
My last two years' letters summarised the issue of WPP CEO succession with reference to another well-worn phrase: "'[There's] no elephant in this...
More