Intel (NASDAQ:INTC) and Google (NASDAQ:GOOG) (NASDAQ:GOOGL) are collaborating on new 3D camera and virtual reality technologies that could open the door to new VR games and experiences on mobile devices. Intel recently integrated its 3D-sensing RealSense cameras into Google's Project Tango, a tablet that scans and transforms real-world surroundings into virtual ones.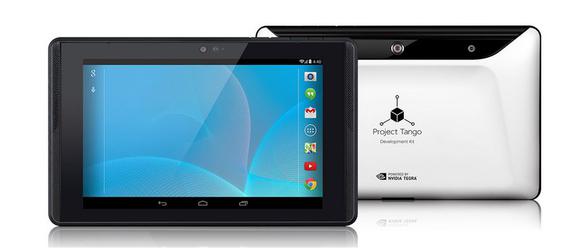 What is Project Tango?
With a Project Tango tablet, a user can scan a room, rendering furniture and other items into 3D objects. Google previously showcased this technology by combining the tablet with a VR headset, which transforms a user's "real" world into a virtual one.
Intel believes that combining RealSense and Project Tango will help developers develop mobile apps for "3D scanning, indoor navigation, depth-enabled photography and video, measurements and immersive augmented reality and virtual reality." The SDK (software development kit) will be released to Android developers by the end of 2015.
The collaboration will also shrink down Project Tango from tablets to smartphones. To work properly with the Project Tango SDK, Intel will launch a new Atom-powered smartphone design that uses a RealSense camera with depth-mapping video at 60fps. The device also includes a wide field of view feature-tracking camera and high-precision motion sensors, both of which Project Tango requires.
How does this help Intel?
Collaborating with Google on Project Tango helps Intel in three ways. First, it shifts the focus away from sluggish PC sales, which caused it to slash its full-year revenue outlook by nearly $1 billion back in March. Second, it showcases the strengths of RealSense cameras, which might boost sales of...
More