Medivation Inc  shares rose after Sanofi SA (ADR)  said it sent a letter to the company confirming an offer to buy all outstanding shares for $52.50 apiece.
Curiously, the stock is trading above the buyout offer price, near $56 hours after the offer was made public. Several sell-side analysts said Medivation is worth far more than Sanofi's figure, with some suggesting up to the $70 mark.
The Logical Series Of Next Steps
This price action shows some in the market are betting on a higher takeout value for Medivation. A source close to the situation told Benzinga they believed Medivation will reject Sanofi's offer. The logical series of next steps would then likely be:
Medivation would then consider higher bids if they are made, something Citi suggested would happen in a note this morning.
Other suitors would enter the picture. Leerink recently suggested AstraZeneca plc (ADR) AZN, AbbVie Inc ABBV and Amgen, Inc. AMGN are better positioned than Sanofi to buy the company.
Analyst Geoffrey Porges provided this heat map, noting that several players have higher buyout ranges they could offer Medivation above Sanofi.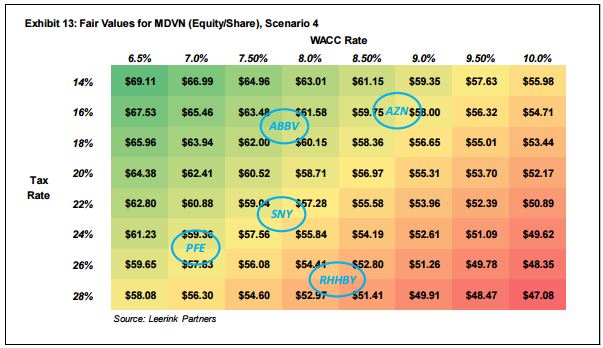 When questioned on the matter, a Sanofi spokesperson referred to the press release, highlighting that the proposed purchase price "represents a premium of over 50 percent to Medivation's two-month volume weighted average price (VWAP) prior to there being takeover rumors."
The aforementioned source said if Medivation were to reject the offer, Sanofi would walk away from the table. They did not comment on the possibility of other bids from Sanofi peers.
Medivation closed the session at $56.17, a 7 percent premium to Sanofi's offer. The company's Board of Directors said it will issue an update after meeting on Thursday, according to the Wall Street Journal.