Another milestone!
On September 11th, over 10,000 followers were receiving StockTwits @ EquityClock. Yesterday, number of followers increased to over 11,000.
Interesting Charts
The S&P 500 Index bounced from near short term support at 1,903.07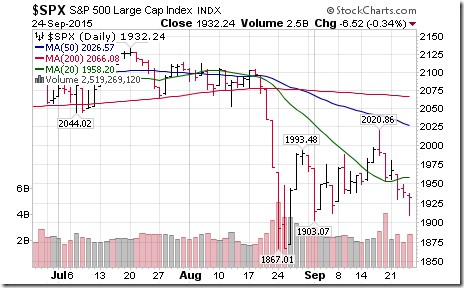 The Dow Jones Industrial Average bounced from near short term support at 15,979.95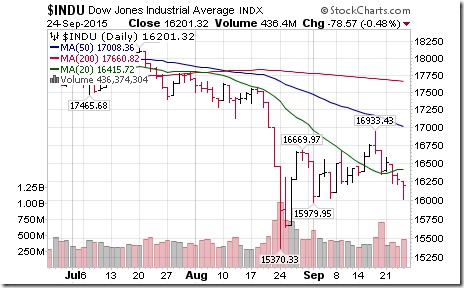 The Canadian Dollar reached an 11 year low by moving below US 74.89 cents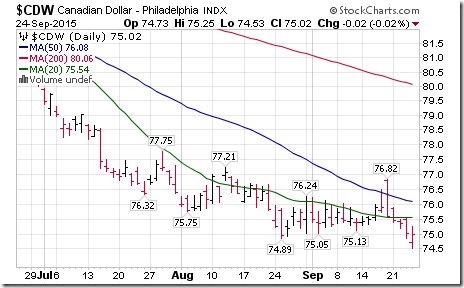 Precious metal prices moved higher yesterday, led by Palladium. Technical score remains at +6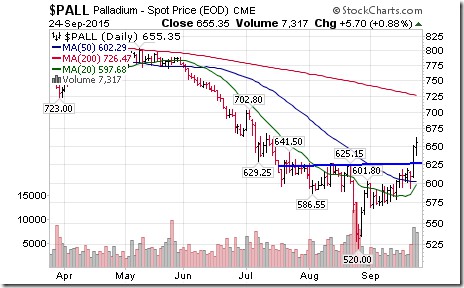 StockTwit Released Yesterday @EquityClock
Technicals for S&P 500 stocks to Noon: Bearish. 25 stocks broke support. None broke resistance Notable breaks were 11 Industrial stocks.
Trader's Corner
Daily Seasonal/Technical Equity Trends for September 24th 2015
Green: Increase from previous day
Red: Decrease from previous day
Daily Seasonal/Technical Commodities Trends for September 24th 2015
Green: Increase from previous day
Red: Decrease from previous day
Daily Seasonal/Technical Sector Trends for September 24th 2015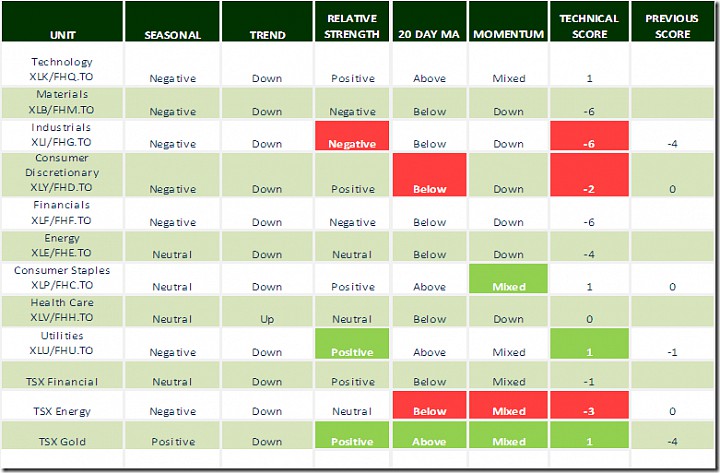 Green: Increase from previous day
Red: Decrease from previous day
Calculating Technical Scores
Technical scores are calculated as follows:
Intermediate Uptrend based on at least 20 trading days: Score 2
Higher highs and higher lows
Intermediate Neutral trend: Score 0
Not up or down
Intermediate Downtrend: Score -2
Lower highs and lower lows
Outperformance relative to the S&P 500 Index: Score: 2
Neutral Performance relative to the S&P 500 Index: 0
Underperformance relative to the S&P 500 Index: Score –2
Above 20 day moving average: Score 1
At 20 day moving average: Score: 0
Below 20 day moving average: –1
Up trending momentum indicators (Daily Stochastics, RSI and MACD): 1
Mixed momentum indicators: 0
Down trending momentum indicators: –1
Technical scores range from -6 to +6. Technical buy signals based on the above guidelines start when a security advances to at least 0.0, but preferably 2.0 or higher. Technical sell/short signals start when a security descends to 0, but preferably -2.0 or lower.
Long positions require maintaining a technical score of 0.0 or higher. Conversely, a short position requires maintaining a technical score of 0.0 or lower.
Special Free Services available through www.equityclock.com
Equityclock.com is offering free access to a data base showing seasonal studies on individual stocks and sectors. The data base holds seasonality studies on over 1000 big and moderate cap securities and indices. To login, simply go to http://www.equityclock.com/charts/
Following is an example: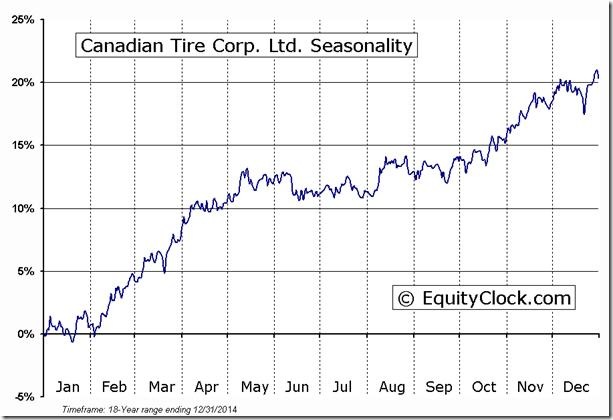 ===================================================
Adrienne Toghraie's "Trader's Coach" Column

Why Are They Rich
& What Does It Take For You To Get There
By Adrienne Toghraie, Trader's Success Coach
I remember as a child on Sundays going to the "The Rich People's Neighborhoods" to see how they lived. Often I thought about what it must have taken to be in their situation. I imagined that some of them came from money, others from education and a few by the luck of fate. Now that I enjoy my own status of life, I have looked back at the crossroads in my life and thought about what my life would have been like if I went to another college, married a different person or made other choices. There are so many possibilities and opportunities that I could have taken that would have led me to a different life.
This line of thought has led me to thinking about the traders who I have met. Many of them were not able to make trading into a profession, some are struggling and some have become masters. Yes, it is true that a few have started off with the advantages of money or opportunities given to them by chance, but it is also true that many have become successful traders just by making the right choices along the way.
While I have many rich to even richer stories, I prefer to tell stories about those who were unlikely candidates for successful trading, but somehow managed to overcome their limitations. The following stories are for those who tell me that they have never met a trader who makes a living at trading and want to know if they exist.
Henry the waiter
Henry waited tables while attending college. When he had to give up school because he could not manage a full time job and keep up with his studies, he did not give up on his dream. Henry wanted to own and operate his own business. Of course, that takes money and knowledge both of which Henry did not have.
The restaurant Henry worked for was in the New York financial district. One day he was talking to a customer who gave him advice as to what he could do rather than focus on what he could not do. Henry purchased and read all of the business books he would have studied while in school. At that point, he knew he wanted to work for himself, but did not know what form that would take.
The restaurant where Henry was working had big screen TVs that would give information about what was happening in the markets. All of his customer's conversations were about trading, so one day he decided that he would find out what it would take to run a trading business. Every chance he got he would listen to conversations and ask questions. Some of the questions were:
· What were the most helpful books to your career?
· What does it take to be a trader?
· What were your most important lessons?
· If you could do it all over again, what would you do differently?
· How can you make it in this field if you do not have money?
One day the last question's answer came in the form of a job offer for working in the back office at one of the financial firms. Henry quickly accepted knowing that his income would then be cut in half. In his new environment he was like a sponge for learning everything he could about the business of trading. Henry's working hard and asking many questions would be the key to his success.
Henry was noticed for being a diligent worker and within three years he became a trader. The income he earned as a trader gave him the resources he needed to eventually own his own trading business and beautiful home. Now others can visit Henry's home on Sunday wondering why he is so rich and what did it take for him to get there.
Glen the farmer
Glen came from a long line of farmers in Texas harvesting soybeans and wheat. While there was a part of him that loved to work in the fields, there was another part of him that hated the constant struggle. Glen's education came mostly from what he learned from his family, but he did manage to get through high school.
One day a speaker came to town and talked about hedging his crops. Glen was introduced to the world of trading and there was no going back. He bought the material from the speaker who talked about Seasonals and he subscribed to his newsletter. From then on Glen decided to educate himself about trading through books and seminars. At first he struggled, but knew that if he applied some of the same principles he learned in farming to trading he would be successful.
When Glen's father died, he felt that there was nothing holding him to the farm, so he sold his property, which gave him enough to support his trading business and have enough money to earn a living from his trading capital. His patience, consistency and discipline paid off. Now, Glen has purchased a ranch for his own pleasure where he lives the life of one of those rich people that I used to envy on Sundays growing up.
Conclusion
You can find opportunity if you make a choice to place yourself where opportunity lives. Then nourish and flourish that opportunity by getting as much information as it takes for you to become successful even if you do not have the money. As in the cases of Henry, Glen and myself, as well as many other traders who I have met, opportunity begets opportunity when you do what it takes to be ready to accept it.
Free Newsletter
More Articles by Adrienne Toghraie, Trader's Coach
Sign Up at – www.TradingOnTarget.com
Disclaimer: Seasonality and technical ratings offered in this report by www.timingthemarket.ca and www.equityclock.com are for information only. They should not be considered as advice to purchase or to sell mentioned securities. Data offered in this report is believed to be accurate, but is not guaranteed.