Robert Half International Inc. RHI continued with its dismal performance in third-quarter 2017, which marked the company's second straight quarter of earnings and sales miss. Moreover, results declined year over year. Despite strength in international regions, results were hurt by softness in the United States and the Protiviti segment in particular.

While investors didn't react much to the earnings announcement, this Zacks Rank #4 (Sell) stock has underperformed the industry on a year-to-date basis. Though shares of Robert Half have increased 5.9% so far this year, it compares unfavorable with the industry's jump of 15.5%.



Let's Delve Deep

Robert Half's earnings of 68 cents per share came a penny below the Zacks Consensus Estimate, but were within the lower end of its previously guided range of 66-72 cents. However, the bottom line dropped 4.2% from the prior-year quarter due to soft sales and lower margins.
Robert Half International Inc. Price, Consensus and EPS Surprise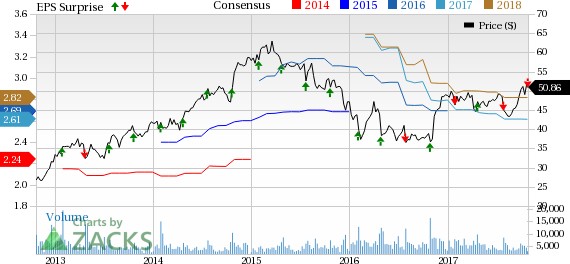 Robert Half International Inc. Price, Consensus and EPS Surprise | Robert Half International Inc. Quote
Robert Half's total revenue of $1,324.7 million dipped 1% year over year, and also fell short of the Zacks Consensus Estimate of $1,331 million. However, the top line came within management's guided range of $1,305-$1,365 million. Well, the year-over-year decline in top line can be attributed to lower U.S. revenues witnessed at the staffing businesses as well as Protiviti.

On a constant currency basis, revenues remained flat year over year.

The company recorded gross profit of $546.4 million in the quarter, which slipped 1.1% year over year. Further, the gross margin declined by 10 basis points (bps) to 41.2%, mainly due to lower gross margin at the Protiviti segment. Further, Robert Half reported operating income of $132.2 million down 9.7% year over year, with the operating margin falling 90 bps to 10%.

Segment Details

Based on the nature of services, the company has three reportable operating segments, namely, Temporary and Consultant Staffing, Permanent Placement Staffing and Risk Consulting and Internal Audit Services.

Revenues from Temporary and Consultant Staffing and Permanent Placement Staffing come under the global staffing division, while Risk Consulting and Internal Audit Services are reported under the Protiviti division.

Global Staffing Division: Global Staffing revenues dipped 0.5% (0.3% on a constant currency basis) to approximately $1,116 million. Constant currency international revenues increased 11% to $262 million, whereas U.S. revenues fell 2% from the prior-year quarter to $854 million. Though currency had a positive impact on staffing revenue growth, reported revenue growth was hurt by 1.5% from lower billing days. Evidently, there were 63.1 billing days in the third quarter, compared with 64.1 in the same period last year.

Gross margin at the segment expanded 10 bps to 43.4%. Management stated that it currently has 324 staffing locations, with 83 locations situated outside the United States.

Protiviti: Protiviti revenues declined about 4% to $209 million, mainly due to softness in U.S. revenues. On a constant currency basis, Protiviti revenues fell 3%. U.S. revenues at the segment dropped 5% to $170 million, whereas revenues from international regions surged 12% to $39 million (on a constant currency basis).

Further, gross margin for the segment fell 130 bps to 29.6%. Management stated that this segment (along with its independently-owned Member Firms) has a network of 76 locations across 26 countries.

Financial Update

As of Sep 30, Robert Half had cash and cash equivalents of $347.1 million compared with $292.4 million in the prior-year period. Additionally, cash flow from operations was $129 million and capital expenditures were nearly $7 million in the reported quarter.

In the third quarter, Robert Half bought back 800,000 shares for $37 million. There are approximately 3.4 million shares available for buyback under the stock repurchase program.

Also, it paid a quarterly cash dividend of 24 cents per share for a total cash outlay of $30 million.

The Road Ahead: Q4 Forecasts

While Robert Half's third-quarter results lagged the Zacks Consensus Estimate, results came within the company's guided range on the back of solid business in Europe. Also, management stated that the overall trends have improved lately, which are likely to benefit the company's staffing and Protiviti business. Further, it remains hopeful of the ongoing results, given the enhanced revenue growth in September, which also continued into October.

Additionally, the company remains focused on investing in technology innovations to better serve customers. In this regard, Robert Half also concluded the global rollout of its CRM software this year, while it also launched a new website recently.

That said, Robert Half issued its earnings and sales guidance for fourth-quarter 2017. The company expects revenues in the range of $1,287-$1,347 million for the said quarter. In addition, it projects earnings in the range of 60-66 cents per share. The Zacks Consensus Estimate for the fourth quarter is pegged at 66 cents which is at the higher end of the estimated range.

Nervous About Robert Half? Check These Trending Picks

Korn/Ferry International KFY has a solid earnings surprise history, and carries a Zacks Rank #2 (Buy). You can see the complete list of today's Zacks #1 Rank (Strong Buy) stocks here.

Accenture plc ACN, carrying a Zacks Rank #2 has a long-term EPS growth rate of 10.3%.

Avis Budget Group, Inc. CAR has witnessed positive estimate revisions over the past seven days. The company flaunts the same Zacks Rank as Accenture.

Zacks' Hidden Trades

While we share many recommendations and ideas with the public, certain moves are hidden from everyone but selected members of our portfolio services. Would you like to peek behind the curtain today and view them?
Starting now, for the next month, I invite you to follow all Zacks' private buys and sells in real time from value to momentum...from stocks under $10 to ETF to option movers...from insider trades to companies that are about to report positive earnings surprises (we've called them with 80%+ accuracy). You can even look inside portfolios so exclusive that they are normally closed to new investors.

Click here for Zacks' secret trade>>
Want the latest recommendations from Zacks Investment Research? Today, you can download 7 Best Stocks for the Next 30 Days.
Click to get this free report
Avis Budget Group, Inc. (CAR): Free Stock Analysis Report
Accenture PLC (ACN): Free Stock Analysis Report
Korn/Ferry International (KFY): Free Stock Analysis Report
Robert Half International Inc. (RHI): Free Stock Analysis Report
To read this article on Zacks.com click here.
Zacks Investment Research