DAILY PRICES
Today's Gold Prices: Bank Holiday in UK today
Friday's Gold Prices:  USD 1,125.50, EUR 998.23 and GBP 730.99 per ounce.
(LBMA AM)
Last week gold and silver prices fell and gave up some of the gains from the previous week. Gold was 2% lower on Friday and indeed 2% lower for the week and closed at $1134.40 per ounce. Silver was 4.5% lower for the week and closed at $14.59 per ounce but is just 1.8% lower for the month of August.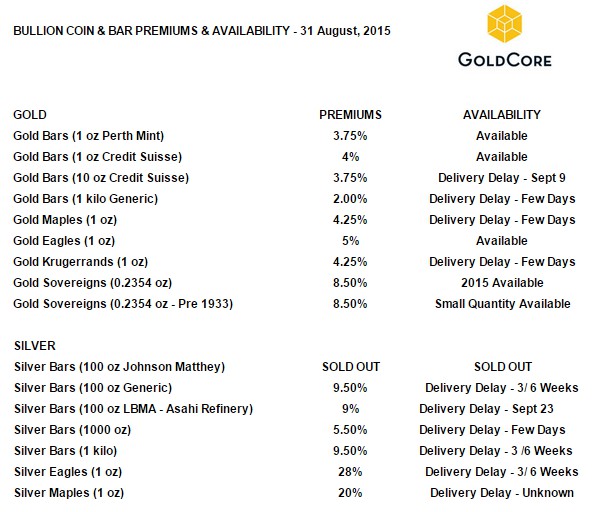 August has been a tumultuous month with stocks seeing sharp losses and gold has again protected investors from sharp losses. Gold has had a 3.36% gain for the month so far (see table below).
Gold is on track for the best monthly advance since January after most market participants were surprised by the devaluation of China's currency. This has fueled concerns about further currency wars and about the world's second-largest economy and indeed the global economy may be vulnerable to a recession – potentially a severe one.
Gold exchange-traded fund holdings rose to a one-month high last week on safe haven demand. The MSCI All-Country World Index of equities is headed for the worst monthly performance since May 2012 and a gauge of 22 raw materials was set to decline for a second month.
Important News
Gold Set for Best Month Since January as Rout Lifts Haven Assets – Bloomberg
Asian stocks set for worst monthly drop in three years on global rout – Reuters
Stocks Set for Worst Month Since 2012 as Fed, China Woes Collide – Bloomberg
Polish Government Confirms Discovery Of Nazi "Gold Train"– Zero Hedge
App for that? BitGold looks to take gold savings mainstream – CTV News
South Africa to promote platinum as central bank reserve asset – Reuters
Important Commentary
The Fed Spent $23 Billion In 3 Days, But Still Had A Hard Time Pushing Up Stocks – Seeking Alpha
Red Alert For 2nd Crash Downwave… – CliveMaund.com
The Central Bankers' Malodorous War On Savers – David Stockman's Contra Corner
Since 2014 Foreign Central Banks Have Withdrawn 246 Tons Of Gold From The NY Fed – Zero Hedge
When David beats Goliath – Davidmcwilliams.ie
Click on News and Commentary