Insurance company Metlife (MET) has turned it around in the second half of 2016 after a bearish trend since mid-2015. The weekly chart below shows that price retreated from just above 58 in 2015 to a low just under 36.00 in 2016.
MET Weekly Chart 11/29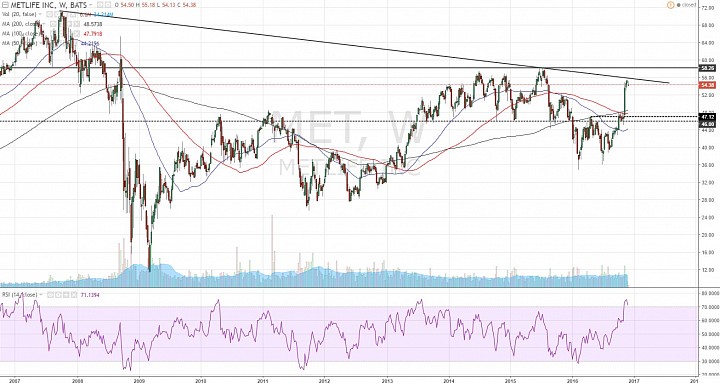 (click to enlarge)
Bullish Surge:
- After a double bottom and after the US election, price surged and price is back around 55.00.
- But, even before price gets back to those highs around 58.00, we should start anticipating resistance from a falling trendline.
- I would expect at least some pullback to 52, or 50, with the bearish outlook capped at the 46-47 area, which is a key support/resistance pivot area. 
The long-term bullish play in MET might still make sense, but we should get ready for some choppiness in the short-term, which could perhaps end up providing a better entry price for a buy - something like 48 instead of the current price around 54.