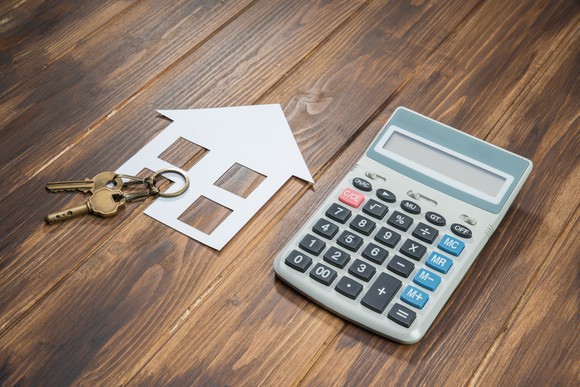 Image source: Getty Images.
On the back of the Federal Reserve's decision to raise interest rates, mortgage rates were slightly higher on Thursday. The average 30-year mortgage rate, at 4.03%, equates to a $480.30 monthly payment per $100,000 borrowed. A month ago, the equivalent payment would have been lower by $9.78.
The average 15-year mortgage rate, at 3.18%, equates to a $699.76 monthly payment per $100,000 borrowed. A month ago, the equivalent payment would have been lower by $5.81.
| Mortgage Type | Interest Rate Today (U.S. average) | Interest Rate 1 Month Ago (U.S. average) |
| --- | --- | --- |
| 30-year fixed jumbo | 4.52% | 4.41% |
| 30-year fixed | 4.05% | 3.88% |
| 15-year fixed | 3.19% | 3.07% |
| 30-year fixed refi | 4.07% | 3.95% |
| 15-year fixed refi | 3.21% | 3.14% |
| 5/1 ARM | 3.39% | 3.27% |
| 5/1 ARM refi | 3.57% | 3.51% |
5/1 ARM: ADJUSTABLE-RATE MORTGAGE WITH AN INITIAL FIXED 5-YEAR INTEREST RATE. DATA SOURCE: BLOOMBERG. RATES MAY INCLUDE POINTS
Home purchase activity dipped last week
The Mortgage Bankers' Association Mortgage Application Survey for the week ending Dec. 9, which it released Wednesday, showed that the effective average rate on a 30-year fixed-rate conforming loan had increased over the previous week. ("Conforming" loans are for balances of $417,000 or less.) The average contract rate, before points and origination fees, rose from 4.27% to 4.28%, its highest level since October 2014.
The average contract rate on a 15-year fixed-rate mortgage fell to 3.52% from 3.53%. However, the average effective rate (i.e., accounting for points, including origination fees) was unchanged.
Perhaps the post-election run-up in mortgage rates is now starting to bite, as far as potential homebuyers are concerned: The Market Composite Index, which tracks mortgage loan application volume, fell 4.0% on a seasonally adjusted basis; drilling down, the Refinance Index and the Purchase Index dropped 4% and 3%, respectively.
From this Fool's perspective, now is no time to get cold feet if you're considering buying a home (assuming it is within your means, of course), as rates look more likely to trend higher than lower over the medium to long term. (Over the very short-term, it's anyone's guess what they'll do.) As far as the interest rate cycle is concerned, the "turn" is in.
The $15,834 Social Security bonus most retirees completely overlook
If you're like most Americans, you're a few years (or more) behind on your retirement savings. But a handful of little-known "Social Security secrets" could help ensure a boost in your retirement income. For example: one easy trick could pay you as much as $15,834 more... each year! Once you learn how to maximize your Social Security benefits, we think you could retire confidently with the peace of mind we're all after. Simply click here to discover how to learn more about these strategies.
Try any of our Foolish newsletter services free for 30 days. We Fools may not all hold the same opinions, but we all believe that considering a diverse range of insights makes us better investors. The Motley Fool has a disclosure policy.