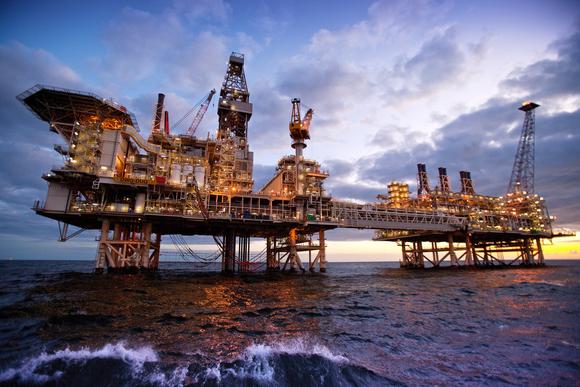 Over the past year or so, we've seen a small handful of large deals in the energy space. Despite the growing list of companies that are pairing up, though, there is a sense that there are still lots of deals left to be made. After all, cheap oil and gas is wreaking havoc on some companies' balance sheets, and bigger names in the space will need to grow somehow over the next few years.
So we asked three of our energy contributors to put on their soothsayer hats and tell us three potential deals they see coming in the near future. Here's what they had to say.
Matt DiLallo: Just for fun, I'm going to propose a deal that just makes a lot of sense on paper. I think Hess (NYSE:HES) should buy Oasis Petroleum (NYSE:OAS). Here's why.
Hess spent the past couple of years transitioning itself from an integrated oil company to a pure-play independent. That shift saw the company shed its gas stations, storage terminals, and more recently its Bakken midstream assets while holding on to its core oil and gas assets. One of the results of this transition is a company that possesses a balance sheet that is the envy of the oil patch, as it has $3 billion in cash and $8 billion of total liquidity to go with a net debt-to-capital ratio of just 8%. That strong financial position is combined with solid offshore assets in places like the Gulf of Mexico as well as a strong U.S. onshore position where Hess possesses more than 600,000 acres in the core of the Bakken Shale.
Oasis Petroleum, likewise has a robust position in the Bakken shale. The company has half a million acres in the Bakken. However, Oasis' financial position is weaker as it has a much higher leverage ratio. Because of that weaker financial position, the company has had to really cut back on spending and therefore growth.
While Hess necessarily doesn't need to bolster its Bakken position, it still could take advantage of the current market to create a real Bakken shale powerhouse if it bought Oasis Petroleum. Aside from just bolstering its position, the real driver of such a combination would be cost savings not just from merger synergies, but from employing Hess' lean manufacturing process on Oasis' acreage to drive drilling costs down even further. That's what makes the combination so compelling as Hess really could extract a lot more value out of the position than Oasis could if it remains independent.
Tyler Crowe: I know I'm speculating here, because there haven't been any rumors indicating anything of the sorts. But I think it's possible in the next couple of months that we'll see some consolidation in the offshore rig industry. It's a bridge too far to say that Company X will acquire Company Y, but here are some reasons the landscape for offshore rig consolidation looks very possible.
Well-financed industry leaders flush with cash: Not every company is in as great of shape when it comes to financial strength, but a couple of the larger players in the space have sizable piles of cash on hand that are more than enough to cover any short-term liquidity issues as well as enough earnings power even today to service existing debts, as well as potentially take on some more to finance an acquisition:
| Company | Total Cash and Short-Term Investments | Net Debt to EBITDA | Current Ratio |
| --- | --- | --- | --- |
| Transocean (NYSE:RIG) | $3.77 billion | 1.82 | 2.32 |
| Ensco (NYSE:ESV) | $1.3 billion | 1.92 | 2.84 |
Contracted rigs the most valuable currency in the industry: With demand for rig work waning and an excess of rigs on the market, building new rigs just...
More