Nvidia (NVDA) was the darling stock of 2016, rallying from a low of 24.75 to a high of almost 120 by the end of the year. In the past few trading sessions, price has shed about 20% to tag 100 before closing at 102 at the end of the 1/3 session.

NVDA Daily chart 1/4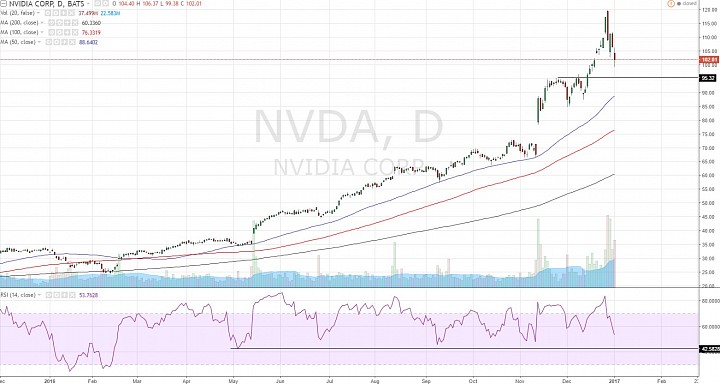 (click to enlarge)

Support:
- If we define a bullish market simply as higher highs and higher lows, the bullish trend in NVDA is intact. 
- We are getting some buying at the 100 handle, but if price falls further, I think we can still anticipate support around 95-95.35. 
- Here, price will test the previous resistance area. 
- The daily RSI should also turn back up before falling below 40. We can see that being the case since early 2016. 

Significant Consolidation Scenario:
- What I would not want to see is a break below 87. This would suggest that NVDA has entered a larger consolidation period that can last months.
- Within this consolidation we might see some bullish action, but in this case, we would have to limit our bullish outlooks to below 120.