On average, there are usually two particularly auspicious times to buy stock each year. The present is considered just such a time.
With the Nasdaq Composite COMP, +0.37% outperforming in six of the past seven sessions — a major plus as it comes right after the emergence from a healthy 11-week basing period — the speculative sentiment percolates.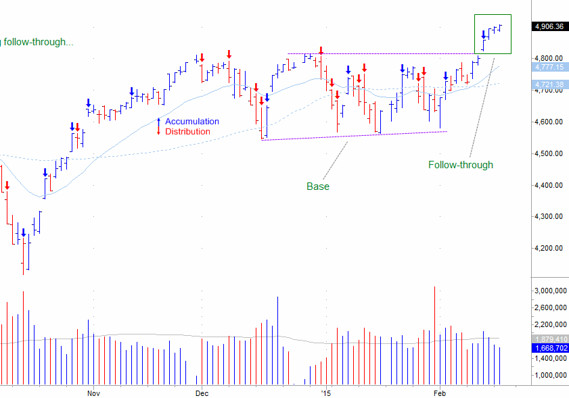 Charts created using TradeStation. ©TradeStation Technologies, 2001-2015. All rights reserved.
Add in the basing-and-breakout action witnessed in numerous growth titles, not to mention the Nasdaq's breakout last week of its 11-week trading range, and the seeds of further upward revaluation have been sown.
It is hard to keep a good market down, especially one driven by central bank accommodation. If last week's takeaway was Friday's Nasdaq Composite's breakout from the range it had been in since early December, this week's is the follow-through in the Nasdaq.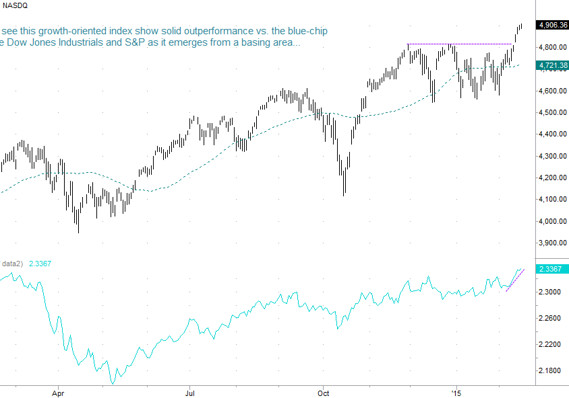 While a pullback can always occur at any time in a bull market, successful intermediate-term speculation doesn't anticipate what might occur. "Trade what you see, not what you believe" and such similar adages may be, well, adages, but there is a reason for that.
Trends are there to be played, not to be argued with. The market never knows whether it is "overdue" for a correction or for an advance. The market can do anything it wants to do, and those who are positive today must be open-minded and flexible enough to change their thinking should fresh technical developments dictate.
Successful participants don't attempt to place the market into their mold of what they expect the market to do. For example, history shows that a strong market can get stronger. This was seen repeatedly during the '90s go-go era. Thus, the current market should not be stubbornly resisted by the speculator.
Overall, one cannot ask anything more of a bull market that is either three-and-a-half years or six years of age, depending upon whether the 2011 decline of 20% is viewed as a bear market.
http://www.marketwatch.com/story/two-young-stocks-poised-for...