With everyone now focused on what China's daily Yuan fixing will be ever night, there was some confusion why last night the PBOC decided to devalue the CNY by another 1.1% to 6.4010, despite its promise that the devaluation would be a "one-off" event, taking the 3 day devaluation to just about 4.5%. However, subsequently in a press conference in which the central banks which now has to handle a metaphorical grenade going off not only in its burst stock market bubble but in its FX market as well, vice-governor Yi Gang said that the PBoC will continue to step in when the market is 'distorted', that there is no economic basis for the Yuan to fall continuously and that it will look to keep the exchange rate 'basically stable'. The Vice-Governor also said that the PBoC will closely monitor cross-border capital flows and that reports suggesting the Central Banks wants to see the currency depreciate 10% are 'groundless'.
Which is ironic considering after just 3 days, the PBOC is already half the way there!
In any event, in an attempt to calm nerves and smooth the volatility, there was another bout of PBOC FX intervention, and as can be seen in the chart below, the onshore Yuan actually closed stronger than the fixing after a bout of buying in the last minute sent it under 6.40: this was the first time the onshore currency has traded stronger than the PBOC fix since November!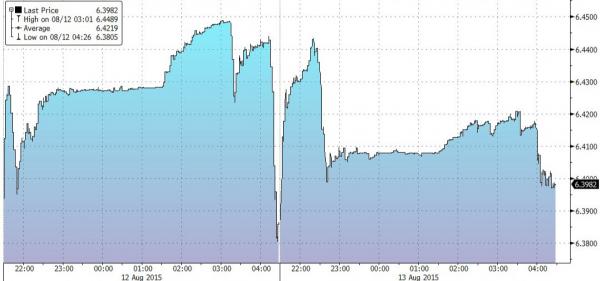 End result: the market and China's trading partners are still trying to assess the motive for this week's move and how far they're likely to allow the currency to fall. As DB summarizes, the PBOC's soothing if contradictory comments may give some comfort "but it does feel there's a lot more to come on this story over the weeks ahead."
For now, however, the risk on mood has returned and futures appear set for a 0.3% rise at the open, with the 200DMA firmly in the S&P's rearview mirror after yesterday's epic stock buyback spree (noted previously), and with the VIX almost certain to trade under 13 shortly after the market open as the Fed does everything in its power to add to the PBOC's artificial calm.
Asian equity markets staged a mild recovery after US equities rebounded on bargain hunting. Shanghai Comp (+1.8%) and Hang Seng (+0.5%) traded between gains and losses throughout the session, with the latter led by index heavyweight Tencent (+4.5%) after the Co. reported strong earnings. ASX 200 (+0.1%) rose as a bounce back in the commodity complex benefitted large miners and energy names. Elsewhere, the Nikkei 225 (+1.0%) was led higher by gains in IT names offsetting the weakness in telecoms where Softbank declined after Alibaba sales saw its slowest growth in 3-years. JGBs rose on the back of a strong 5-year bond auction following a better than prior b/c and average yield.
Elsewhere, much of today's price action has been a reversal of the recent trend, with European equities (Euro Stoxx: +1.4%) firmly in the green after the DAX fell around 6% in the last two days of trade, with equities benefitting from positive sentiment seen in the latter half of the US session, where equities reversed early losses to finish in the green.
In fixed income markets, Bunds reside in negative territory this morning as dealers suggest leveraged and real money selling of both Bunds and periphery bonds. Volumes have been relatively light so far today however analysts at I FR note that the German curve has steepened particularly with 2/10s and 10s/30s. T-Notes also trade lower heading into the pit open, after USTs gained over 1.5 points over the last two days, ahead of today's USD 16bIn 30yr auction. This, of course, is quite ironic because when the PBOC intervenes to offset its devaluation, it sells less TSYs or even outright buys them. But the math there is too confusing for algos so all those who took profits on their 10Y positions after the Gartman fade yesterday, great timing as usual.
The USD has seen a bout of strength this morning (USD-Index: +0.3%) after falling over 1% yesterday ; in terms of the reaction in PBoC, USD/CNH initially moved higher after the PBoC weakened their currency before paring the move as the central bank refuted claims of a 10% devaluation in the currency and said there is no basis for continued devaluation of CNY and signalled that CNY will appreciate in the future.
The metals complex has weakened on the back of USD strength overnight, with gold coming off its 3 week highs seen yesterday, while copper prices also mildly retreated from best levels . Elsewhere the energy complex has seen a widening of the WTI/Brent spread, with positioning seen in Brent ahead of tomorrow's futures contract expiry has seen a widening.
All that said, China may quickly be forgotten if only for a few hours when looking ahead at today's key economic data which is in the form of US retail sales. Should the retail sales print be far stronger than expected, then the shaky September rate hike case will be right back on the table, and as has been the case recently, will be another instance of "good economic news is bad news for stocks." Which may explain why equities are far less exuberant this morning than usual following massive central bank intervention.
In Summary: European shares rise after 2 days of declines, as China's central bank signaled support for its currency, the tech and financial services sectors outperform, basic resources, insurance underperform.  PBOC says there's no basis for yuan depreciation to persist, will step in to control large fluctuations. Companies including Nestle, ThyssenKrupp, RWE and Maersk released earnings. The Swiss and French markets are the best-performing larger bourses, U.K. the worst. The euro is weaker against the dollar. Japanese 10yr bond yields rise; German yields increase. Commodities gain, with silver, natural gas underperforming and Brent crude outperforming. U.S. jobless claims, continuing claims, Bloomberg consumer comfort, retail sales, import price index, business inventories due later.
Market Wrap
S&P 500 futures up 0.2% to 2088.2
Stoxx 600 up 1.3% to 387.9
US 10Yr yield up 1bps to 2.16%
German 10Yr yield up 2bps to 0.63%
MSCI Asia Pacific up 0.1% to 138.4
Gold spot down 0.5% to $1119.3/oz
Eurostoxx 50 +1.2%, FTSE 100 +0.5%, CAC 40 +1.5%, DAX +1%, IBEX +0.9%, FTSEMIB +1.4%, SMI +1.5%
Asian stocks rise with the Shanghai Composite outperforming and the ASX underperforming; MSCI Asia Pacific up 0.1% to 138.4
Nikkei 225 up 1%, Hang Seng up 0.4%, Kospi up 0.4%, Shanghai Composite up 1.8%, ASX up 0.1%, Sensex up 0.7%
Euro down 0.34% to $1.1121
Dollar Index up 0.27% to 96.52
Italian 10Yr yield down 1bps to 1.81%
Spanish 10Yr yield up 0bps to 1.98%
French 10Yr yield up 2bps to 0.95%
S&P GSCI Index up 0.7% to 370.4
Brent Futures up 1.2% to $50.3/bbl, WTI Futures up 0.6% to $43.6/bbl
LME 3m Copper up 0.7% to $5225/MT
LME 3m Nickel up 0.5% to $10650/MT
Wheat futures up 1% to 502.3 USd/bu
Bulletin Headline Summary from Bloomberg and RanSquawk
Despite the PBoC weakening the CNY for a third consecutive day, the less dramatic move failed to see a sustained reaction in most asset classes
As such much of today's price action has been a reversal of the recent trend, with European equities and the USD both firmly in the green
Looking ahead, today's highlight comes in the form of US retail sales, while participants will also be looking out for US import prices and weekly jobs numbers
Treasuries decline amid gains in stocks and before week's auctions conclude with $16b 30Y, WI 2.855%, lowest since April, vs. 3.084% in July.
Onshore yuan spot rate pared declines in late trading to close 0.19% lower in Shanghai, following the steepest two- day drop since 1994
It was the second day in a row that at least one major Chinese bank sold dollars to influence the closing level, according to traders
Japan "need not worry" about China's devaluation of the yuan because it can always offset the effects by easing monetary policy, said an adviser to Prime Minister Shinzo Abe
Explosions rocked a hazardous-chemicals storage site in the northern Chinese city of Tianjin, killing at least 44 people and disrupting operations at one of the world's busiest ports
Germany's government withheld approval of the draft bailout plan for Greece, saying a bridge loan remains an option if a full aid program isn't agreed in time for a payment to the European Central Bank due next week
Greece's statistical agency said GDP rose 0.8% in 2Q as it revised up 1Q to show stagnation. Nominal GDP, which excludes adjustments for price changes, fell 0.7% in 2Q
Former U.K. Prime Minister Tony Blair warned that his Labour Party faces "annihilation" if it elects anti-austerity, pro- renationalization lawmaker Jeremy Corbyn as its new leader
$1.5b IG and $1.7b HY priced yesterday. BofAML Corporate Master Index OAS +2 to new YTD wide +164; YTD low 129. High Yield Master II OAS +12 to 567, new YTD wide; YTD low 438
Sovereign 10Y bond yields higher. Asian, European stocks gain, U.S. equity-index futures rise. Crude oil and copper steady, gold falls
US Event Calendar
8:30am: Retail Sales Advance, July, est. 0.6% (prior -0.3%)

Retail Sales Ex Auto, July, est. 0.4% (prior -0.1%)
Retail Sales Ex Auto and Gas, July, est. 0.4% (prior -0.2%)
Retail Sales Control Group, July, est. 0.5% (prior -0.1%)

8:30am: Import Price Index m/m, July, est. -1.2% (prior -0.1%)

Import Price Index y/y, July, est. -10.7% (prior -10%)

8:30am: Initial Jobless Claims, Aug. 8, est. 270k (prior 270k)

Continuing Claims, Aug. 1, est. 2.245m (prior 2.255m)

9:45am: Bloomberg Consumer Comfort, Aug. 9 (prior 40.3)
10:00am: Business Inventories, June, est. 0.3% (prior 0.3%)
1:00pm: U.S. to sell $16b 30Y bonds
DB's Jim Reid completes the overnight recap
It's straight to China this morning where the PBoC has, for the third consecutive day, moved to devalue the Yuan further after setting the fix 1.1% weaker than Wednesday at a reference rate of 6.401. That's a touch higher than yesterday's closing price (6.386) after the currency actually bounced in the last 15 minutes of trading after authorities stepped in. The move in the fix this morning was modest-ish relative to the previous two days (after a 1.6% and 1.9% cut), but still significant enough to see the onshore Yuan depreciate a further 0.34% this morning to 6.408, although that's well off yesterday's 6.449 high print before the late rally. The offshore Yuan is 0.19% weaker meanwhile.
Meanwhile, we've also heard from the PBoC this morning after the Central Bank held a press conference to address the recent events. Vice-Governor Yi Gang said that the PBoC will continue to step in when the market is 'distorted', that there is no economic basis for the Yuan to fall continuously and that it will look to keep the exchange rate 'basically stable'. The Vice-Governor also said that the PBoC will closely monitor cross-border capital flows and that reports suggesting the Central Banks wants to see the currency depreciate 10% are 'groundless'. The market and trading partners are still trying to assess the motive for this week's move and how far they're likely to allow the currency to fall. These comments may give some comfort but it does feel there's a lot more to come on this story over the weeks ahead.
As we point out below there was a decent rebound in risk assets through the US session yesterday which has overnight helped lift some of the more China sensitive currencies too. This morning however we've seen the better sentiment continue with the likes of the Aussie Dollar (+0.10%), Korean Won (+1.16%), Malaysian Ringgit (+0.67%) and Indonesian Rupiah (+0.44%) some of the notable movers. 10y Treasuries are 2.6bps higher in yield meanwhile at 2.171% while across the equity space it's been a better start to trading for the most part with the Nikkei (+0.65%), Hang Seng (+0.30%), Kospi (+0.62%) and ASX (+0.74%) in particular all up. China bourses have pared earlier gains however with the Shanghai Comp and Shenzhen -0.62% and -0.56% respectively.
Looking back at yesterday's events, it appeared that markets were on course to mirror much of what we saw on Tuesday post the first PBoC devaluation of the Yuan, only for risk assets in the US to stage a large turnaround and buck the sell-off trend that had dominated the European session and the early part of the US one. On the back some steep losses out of equity markets in Asia, European bourses opened up softer and proceeded to weaken over the course of the session. The Stoxx 600 eventually finished down 2.70% for its biggest one-day loss since October 15th last year, while the DAX (-3.27%), CAC (-3.40%), IBEX (-2.44%) and FTSE MIB (-2.96%) also suffered heavy falls. Losses were again led by the auto and consumer names with notable falls for BMW and Daimler pushing the Stoxx 600 auto gauge down nearly 8% over the last two days, the largest fall since 2011. Credit markets also suffered through the European session with Crossover in particular nudging 9bps wider.
That weakness carried over into the US open where the S&P 500 promptly fell 1.5% and in turn seeing the index turn negative YTD. Sentiment swiftly changed however and the index did something it hasn't done since May 2012 in reversing a 1.5% intraday decline to close just about in positive territory at +0.10%. There were similar rebounds too for the Dow and NASDAQ which closed flat and +0.15% respectively. In the credit space meanwhile, having traded as much as 2.5bps wider CDX IG also benefited from the turnaround, recovering to close about half a basis point wider. With the S&P 500 advancing 1.32% so far this year, US equities have seemingly failed to break with conviction one way or the other and the index has now traded in its tightest range since 1927. It wasn't entirely obvious what triggered yesterday's change of sentiment in the US session with some of the reasoning being placed on technical triggers driven by the S&P 500 declining below its 200-day moving average (a level its only closed below twice this year). A bounce back in the Oil space however which saw WTI (+0.51%) and Brent (+0.98%) recover off the recent lows helped support a decent recovery for energy stocks (+1.86%) which ended the day the best performing sector.
That turnaround in sentiment also saw some material moves in the Treasury market yesterday. Having plummeted as much as 10bps lower in yield intraday and touching 2.043%, the 10y benchmark weakened throughout much of the US session and eventually finished more or less unchanged (+0.7bps) at 2.149%. Yesterday's 10y bond auction caught our eye too and helped nudge yields slightly higher after the auction came at the lowest yield (2.115%) since April 30th and the weakest bid-to-cover ratio (2.40) since March 2009. It'll be interesting to see how today's 30y auction goes as a result. Fed Funds Dec15 (+0.5bps) and Dec16 (-2.5bps) were slightly mixed, while the probability of a September move by the Fed rose 4% to 44%.
Data wise we got more employment data with the June JOLTS job openings print which pointed to some encouraging signs in the details. Although job openings declined by 108k to 5.25m (vs. 5.35m expected), the hiring rate improved a tenth to 3.7% and in the process matching its post-recession high. The quits rate remained unchanged at 1.9% and our US colleagues note that both the hiring and quits rates are now just a tenth of a percent below their respective readings when the Fed began hiking in June 2004. Meanwhile, the July monthly budget statement showed a slightly higher than expected deficit ($149bn vs. $140bn expected).
There was also more Fedspeak for us to digest yesterday and this time from the NY Fed President Dudley. The Fed official offered very little however in terms of trying to nail down his bias for hike timing, saying that 'hopefully we're going to make progress in terms of our goals' and so 'hopefully in the near future, we'll be able to actually begin to raise interest rates' but that 'when that is precisely, depends on the data'. In the first comments that we've seen from any Fed officials on China, Dudley also added that it's not inappropriate for the currency to adjust in consequence to the weakness in the economy. Dudley did however also go on to say that it's still too soon to draw firm conclusions about what all this means.
European data flow yesterday was highlighted by a softer than expected June industrial production reading (-0.4% mom vs. -0.1%), dragging the annualized reading down to +1.2% yoy from 1.6% previously and raising questions ahead of Friday's Q2 GDP report. Over in the UK meanwhile we got a host of employment indicators yesterday. The ILO unemployment rate held steady in June at 5.6% as expected and about half a percent above the BoE's view of the long-term equilibrium rate. Jobless claims resumed their monthly decline in July (-4.9k) with June's reading largely revised away. Headline wage growth of 2.4% yoy in Q2 was lower than the 2.8% expected and well below the 3.2% rate for the previous overlapping quarter. DB's George Buckley noted that we should treat this with caution however with a number of explanations for this fall including base effects, falling bonuses and weak public sector pay. In fact, stripping out the bonus effect saw earnings in line at 2.8% yoy for the quarter. George thinks that yesterday's data suggests that we are moving ever closer to the need for a rise in rates. Sterling had a stronger session yesterday with the Pound closing up +0.26% versus the Dollar.
Before we move on, yesterday we heard of some slight setback for Greece in gaining parliamentary approval for its new deal with further pushback from Germany in particular. German Chancellor Merkel's spokesman, Steffen Seibert, said that the deal 'goes in the right direction' but that it was 'not possibly to say' whether or not it's ready for a vote through the Bundestag as per a report from Ekathimerini. Another Finance Ministry spokesman said that 'bridge financing is not off the table' and that 'we're still taking bridge financing into consideration if it's not possible to pay out a first tranche in August to meet the outstanding obligations'.
Taking a look at today's calendar now, it's a busy morning of inflation data in Europe where we get the July CPI prints for Germany, France and Spain. As well as this, we'll also get the ECB minutes from the last Council meeting. The highlight in the US this afternoon meanwhile will no doubt be on the July retail sales reading with the market looking for a +0.6% mom reading at the headline and +0.4% mom print at the ex auto and gas level. The retail control group reading (which goes into the national accounts) will also be closely monitored while away from this we get the import price index print, business inventories and initial jobless claims.