Square (SQ) reported solid Q2 numbers that shouldn't be a big surprise to people following this blog (see July 11 recommendation here). Adjusted revenue soared 54% to $171 million on a 42% increase in gross payment volumes to $12.5 billion. Earnings were still a loss, but the key is improving EBITDA margins. 
A big part of the story is the shift in the size of sellers using the Square mobile-payments system. The bigger sellers mean more revenue without needing to add a ton of customers.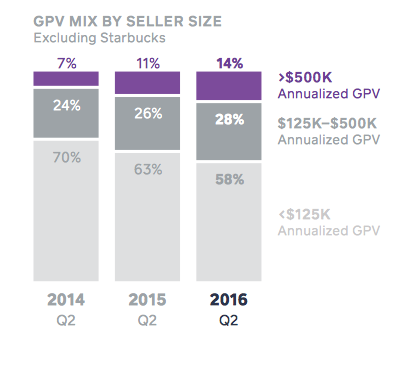 Guidance remains for revenues of $655 to $670 million. With a market cap of $5.1 billion based on the diluted share count that was listed as 440 million shares and a $11.50 stock price, Square is definitely an appealing stock for those that didn't buy the shares as recommended around $9. Don't chase the stock too far though. 
Disclosure: No position