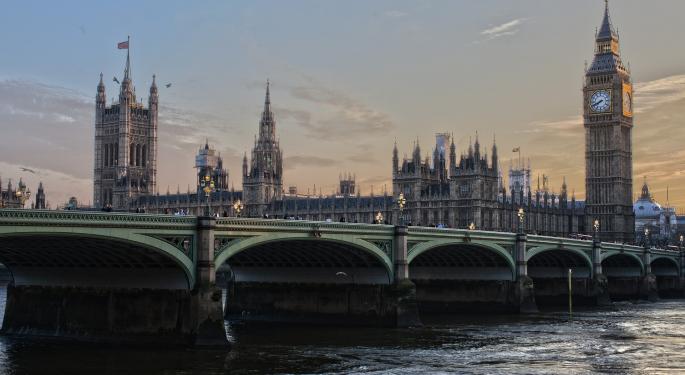 Investors around the world were greeted with a sharply higher stock market on Monday for one reason: The odds of Great Britain exiting the European Union this week declined ahead of Thursday's vote.
Over the weekend, odds favoring an exit on the gambling exchange Betfair plunged from a 40 percent probability to 27 percent. So far, bettors have squared off on 38 million pounds of action ($55 million) and will likely exceed 50 million pounds. That will topple the 2014 World Cup soccer match between Germany and Argentina.
Many pundits are attributing the decline to recent murder of British politician Jo Cox. In other words, the betting public is appalled by the murder that was supposedly carried out by an extreme right-winger that harbored deep anti-EU sentiment.
Stocks Gain
As a result of the change in sentiment, European financial stocks Deutsche Bank AG (USA) DB 5.05% and Credit Suisse Gorpu AG (ADR) CS 3.43% posted strong gains in Monday's European session.Deutsche Bank shares were trading higher by $0.81 (4 .5 percent) at $16.43 and Credit Suisse was in the green by $0.45 (3.3 percent) at $13.
In turn, this has sparked a rally in U.S. financials as Goldman Sachs Group Inc GS 2.04% was trading higher by $4 at $149.64 and Bank of America Corp BAC 1.49% was higher by $0.32 at $13.72. With financials representing a sizable portion of the S&P 500 index, fund managers were essentially forced to allocate more funds to the sector in order to keep up the benchmarks performance.
But Why?
The rationale being that with Great Britain staying in the EU, it will eliminate the major disconnect in the worldwide banking if in fact Great Britain opts to go at it alone.
However, investors purchasing shares of Deutsche Bank and Credit Suisse may be overlooking one very important factor: The levels these issues are rallying from. In the case of Deutsche Bank, the issue reached not only a 52-week low last week, but a 7 1/2-year low as well.
During the Financial Crisis, Deutsche Bank bottomed at $20.97 in January 2009. The issue rebounded all the way to $84.93 by October, but peeled back to end 2009 at $70.91.
Since that time, as the U.S. market has rallied exponentially, Deutsche Bank and other European banks have drifted lower to trade well below their 2009 lows. Certainly not a strong relative performance and no reason to go head over heels over Monday's rally.
Careful Using Predictions
No one can accurately predict the outcome of the upcoming vote. Better yet, no one can predict what the incremental change will take place on Betfair overnight, reflecting the probability of a "yes" or "no" vote.
For example, if the sentiment rises back to 40 percent overnight, will the indexes shed some or all of today's gains? What if it rises to 50-60 percent before the actual vote? Will the indexes fall beyond last week's low or worse yet, back to the bottom of long-term trading range that has been in place since May 2014 (1800-2100)?
So how should long-term investors play the much-anticipated vote on Thursday? It's easy to state what they shouldn't do, and that's to chase the market in either direction off headlines related to the outcome of the vote.
Instead, stick to your long-term investing strategy and if the recent price gyrations call for changes to your portfolio than do so. Certainly don't allow the recent headlines to sway from a plan of action that was in place ahead of the vote and will be around long after the outcome is officially determined.
© 2016 Benzinga.com. Benzinga does not provide investment advice. All rights reserved.