Even though Puerto Rico may be just weeks away from defaulting on some of its $70 billion of debt, a couple of the biggest names in the bond market are swooping in to buy its securities.
Jeffrey Gundlach of DoubleLine Capital LP and Avenue Capital Group's Marc Lasry both said this week that they're buying bonds from the commonwealth as prices take a new turn lower. Puerto Rico owes a combined $1.4 billion on those securities and others in the next six weeks, compared with just $209 million of payments since Sept. 1.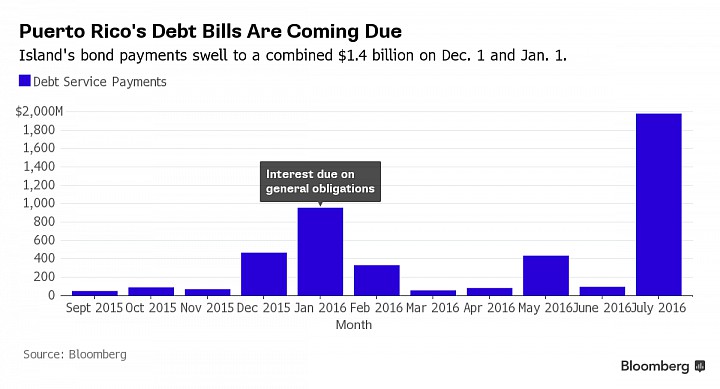 The purchases show how some distressed-debt investors are betting that prices have fallen too far and Governor Alejandro Garcia Padilla will have trouble following through on his pledge to prioritize public services and force losses on bondholders with constitutionally protected securities. Puerto Rico's benchmark general obligations traded Wednesday near the lowest price since August, data compiled by Bloomberg show.
"Entering at this point, the risk-reward calculus may make sense because it's pricing in as much of the downside risk possibility that there is," said David Tawil, who manages $80 million as co-founder of hedge fund Maglan Capital LP in New York.
"Distressed buyers have to be buyers when things are super out of favor -- that's how they make real money," said Tawil, who used to own Puerto Rico debt but doesn't anymore. "A lot of time has passed, a lot of rhetoric has come and gone, and we're at do-or-die time."
Payment Schedule
Puerto Rico bond prices have plunged over the past two years as the commonwealth's economy staggered under its debt load. They fell to...
More