While most of market attention continues to remain on the FOMC, expectations around taper, and the continued bloodbath in emerging market stocks, its still important - for those of us that like to follow the macro fundamentals - to keep our eyes open for new info that can be helpful in establishing medium term biases.

We got one of those reports during the European session with the release of the Flash (or preliminary) version of Euro-zone manufacturing and services PMI's for August. These reports are some of the timeliest and can give us good insight into these key sectors. 
Well, the news was generally good for the whole EZ, great for Germany, but quite disappointing in France.

EZ Manufacturing Index rose to 51.3, forecast was 50.9, previous was 50.3.
EZ Services Index rose to 51.0, forecast was 50.2, previous was 49.8.
German Manufacturing rose to 52.0, forecast was 51.1, previous was 50.7.
German Services rose to 52.4, forecast was 51.7, previous was 51.3.
French Manufacturing stayed the same at 49.7, forecast was 50.4.
French Services fell to 47.7 from 48.6, forecast was 49.3.
Here's what the picutre looks like broken down by Germany, France, and the rest of Euro-zone, using the "composite" PMI and historical context: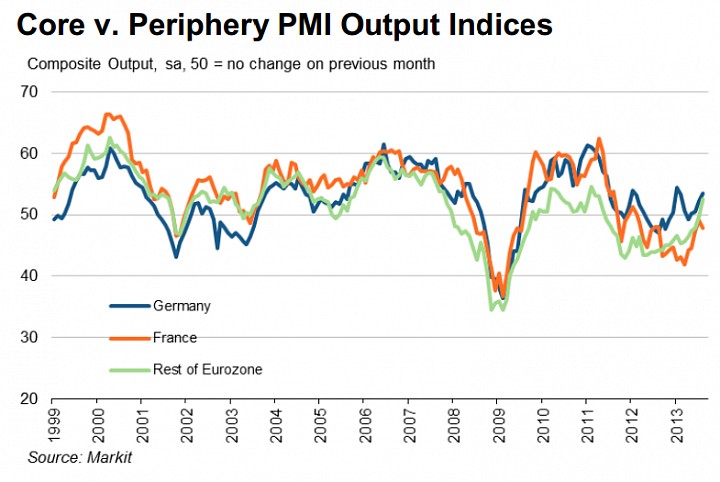 In Germany, both the manufacturing and services sectors came in stronger than expected on the back of good domestic demand and a pick-up in exports. That's good news as Germany drives the Euro-zone, and it shows that both sectors are more perky.
In France however, services faltered, falling back compared to July, and manufacturing contracted, though its close to the neutral level of 50. In other words, the second biggest economy in Europe is not seeing the same optimism as its bigger neighbor.
Still, the rest of the euro-zone should be pleased as its output rose for the first time since May 2011 in both sectors (it was the second month of expansion in manufacturing). 
So, this is further affirmation that the EZ has escaped recession, and is entering a period of slow growth, though things remain fragile. While France is a sore spot, its good to see the periphery get up off the mat though its in the midst of its standing 8-count, while Germany looks forward to a decent 3rd quarter.
It also reminds me of this cartoon from the latest Economist: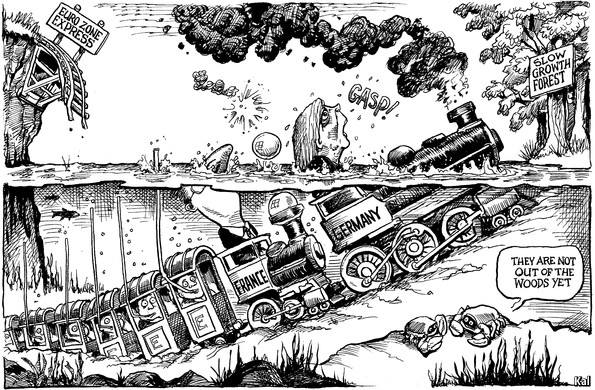 When will this all help the EUR? Well, I think we have already seen the market pricing in a recovery in the EUR, and its actually been one of the go to currencies for safety as investors flee commodity currencies and emerging markets and see Europe as a decent destination now with yields that are relatively high in the periphery or in the case of Germany and France, higher than they have been. 
- Nick