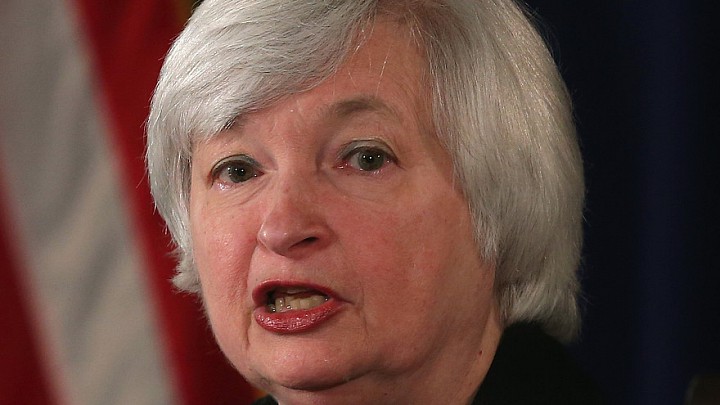 Getty Images
Federal Reserve Board Chairman Janet Yellen speaks to the media during her news conference.

he following are selected highlights of the question-and-answer session held by Federal Reserve Chairwoman Janet Yellen:
On the new economic projections: "There is relatively little change in the assessment of the outlook by participants between this meeting and the assessment in June. So the outlook is a little changed, a slight decline in the anticipated path of the unemployment rate and a very slight uptick in the inflation projection but really quite minimal.
Now you said isn't this calendar based guidance. I want to emphasize that there is no mechanical interpretation of what the term considerable time means."
On the range of forecasts for interest rates in 2017: "I think it is also notable that the further you go out in the projection period the wider the set of dots you see a big range out in 2017. And that reflects in part different forecasts by different members of the committee, about how rapid progress will be. What you don't see in the dot -- so-called dot plot is also the uncertainty that each individual and each participant sees around their own projection. Things will depend on how the economy evolves and that will change over time and there is a good deal of uncertainty associated with it."
On where Yellen's own dots lie. "We have not yet decided that it would be a desirable thing for the point of view of our decision making process to identify individuals. We have a subcommittee on communications that's now chaired by Vice Chair Fischer and they will be considering the SEP and whether or not some changes are appropriate. But until and unless there is some change in the committee's stance on this I don't want to identify myself."
On how long it will take for the Fed's balance sheet to return to normal: "If we were only to shrink our balance sheet by ceasing reinvestments, it would probably take to get back to levels of reserve balances that we had before the crisis, I'm not sure we will go that low but we have said that we will try to shrink our balance sheet to the lowest levels consistent with the efficient and effective implementation of policy, it could take to the end of the decade to achieve those levels."
On the significance of two dissents: "I don't consider two dissents to be an abnormally large number. Presidents Plosser and Fisher have been quite clear in all of their speeches recently in stating that they think the time has come to begin normalizing policy. I think they perhaps have some concerns that if we don't begin to do so soon that inflation will pick up. Be above levels that they would consider desirable. Where that they have some financial stability concerns but the committee adopted today's statement by an overwhelming majority and I don't consider the level of dissent to be surprising or very abnormal."