A proven way to build long-term wealth is to seek out top-quality companies in beaten-down sectors, then hold them as their industries rebound.
Take railways, which find themselves in an uphill pull, thanks to the plunge in oil prices, which has slashed crude-by-rail shipments; the higher dollar, which has weighed on exports; and tough environmental regulations, which are kneecapping coal demand.
The effects were shown in fourth-quarter results from Union Pacific, which experienced revenue drops ranging from 7% to 31% in five of its six main shipping categories. The sole exception was automotive, which eked out a 1% gain.
But in cyclical businesses such as railways, one thing always rings true: Better days will eventually return. Meanwhile, these down periods are a good time for investors to make winning trades by picking up strong operators at attractive prices.
Must Read: Canadian Pacific, Norfolk Southern Stocks Also Go Their Separate Ways
Enter Canadian Pacific Railway (CP - Get Report) , which has 14,000 miles of track running from Vancouver, in Canada's west, to Montreal in the east and stretching down to major U.S. hubs such as Chicago, New York and Philadelphia.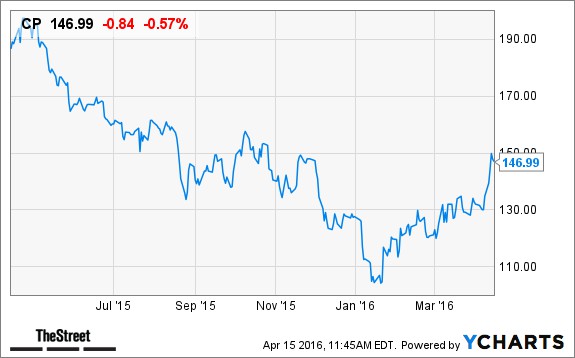 For the past six months, the company has been focused on its $25 billion bid for Norfolk Southern. That deal would have created North...
More