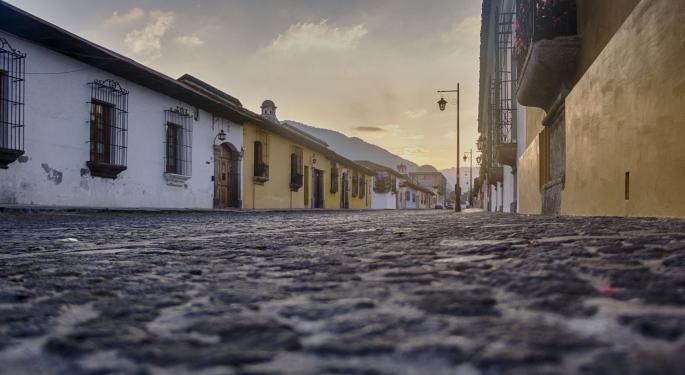 Among emerging markets, Latin America, after several years of being a drag on the asset class, is hot this year. Hot asset classes in the U.S. include real estate equities and real estate investment trusts.
Those two themes can be married with the Tierra XP Latin America Real Estate ETF LARE, which considering the strength of the aforementioned asset classes, is not surprisingly this year's best-performing real estate exchange traded fund.
Sure, real estate stocks and ETFs are getting increased attention ahead of the move, happening at the end of this month, that will see the group depart the financial services sector and become the 11th GICS sector. However, that is a phenomenon many market participants are looking at through a U.S. lens. Of course, resurgent Brazilian equity markets are helping, but much of that is attributable to rebounding commodities prices and regime change.
Yes, those factors are driving LARE higher, but there is more to this ETF's story. Another surprise when it comes to Brazil, LARE's largest geographic weight is the strength of Brazilian bank stocks amid a myriad of headwinds. Challenges for Brazilian stem from what is becoming a familiar issue from Illinois to Greece: public pensions. Cash-strapped Brazilian states are now delaying doling out benefits to pensioners, potentially crimping banks that previously rushed to lend to this segment of the Brazilian population.
Investors considering an ETF like LARE, while it is a one-of-a-kind ETF, should drill down deeper regarding the significant tailwinds for this fund. Not only are LARE's member firms inexpensive on valuation, but they are expected to post robust earnings growth this year. Higher earnings from real estate companies can lead to increased funds from operations (FFO). FFO is the key metric by which investors analyze a real estate firm's ability to sustain and grow dividends.
In other words, at a time when many U.S. REITs are selling assets to boost payouts, LARE's dividend has the potential to grow in superior fashion – by way of improved earnings.
Also boding well for LARE is a recent survey by CBRE, which indicates Latin American investors are anxious to make more real estate investments this year.
"As for where these investors want to spend their cash, 29 percent of respondents said Brazil was the best place to be. Chile wasn't far behind with 23 percent, with Mexico trailing at 13 percent and Argentina showing a measly 6 percent. Colombia and Peru tied, with 3 percent of respondents saying said those countries were the best places to invest," according to http://therealdeal.com/miami/2016/05/02/latin-american-inves...">The Real Deal.
© 2016 Benzinga.com. Benzinga does not provide investment advice. All rights reserved.
Source