Jobless Claims: 287
Forecast: 299K
Previous 295K


(click to enlarge; source: forexfactory.com)
Jobless claims data continue to underpin a strong recovery in the labor market. It has been holding below 300K in recent months, continuing a declining trend since 2009 when it was above 650K amid the financial crisis and a recession in the US. 

Factory Orders m/m (August): -10.1%
Forecast: -9.4%
Previous: 10.5%


(click to enlarge; source: forexfactory.com)
It is not surprising to see a strong reduction after such strong growth in July. The volatility for both month was due to aircraft sales which soared in July, and expectedly fell back down in August.. August's headline factory orders reading of -10.1% was also the steepest decline on record going back to 1992. 
We should not read too much into this. When taking out the transport component, orders were down by 0.1% on the month. 

The USD index is consolidating between 85.50 and 85.90. It if comes back above 85.90, it would revive a bullish bias, especially if the 1H RSI also crosses over 60 to show loss of bearish momentum. Otherwise, a break below 85.50 suggests the USD is finally paring its gains as the USDX would be forming a price top.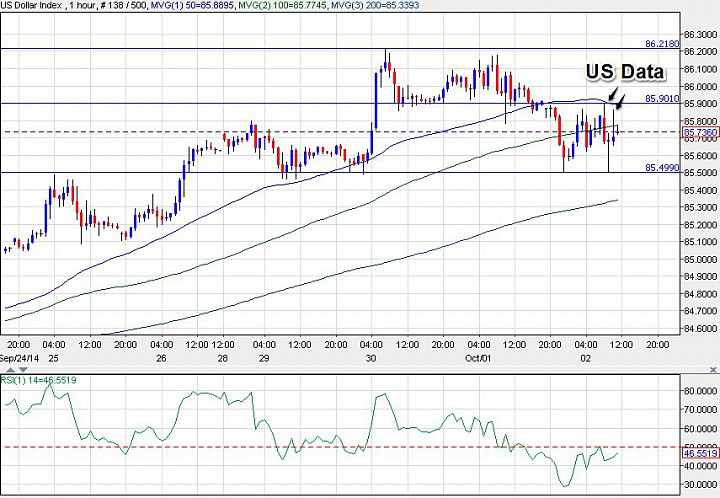 (USDX 1H Chart 10/2)

It seems like at this point, we will need some strong data perhaps from tomorrow's NFP to give the USD another bullish run.