Federal Reserve's FOMC meeting also scheduled for this week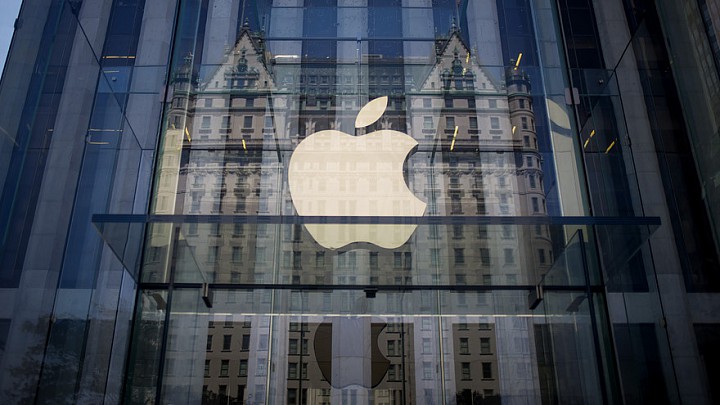 Getty Images
Apple earnings look to rescue tech sector again.

Expected strong profits from Apple Inc. and consumer-based companies go up against a rash of weak energy sector results this week in a battle to try to save the S&P 500 from a projected earnings loss for the quarter.
U.S. stocks finished up their fourth consecutive week of gains Friday, with the Dow Jones Industrial Average DJIA, -0.13% rising 2.5%, the S&P 500 IndexSPX, -0.19% advancing 2.1%, and the Nasdaq Composite Index COMP, +0.06% gaining 3% on the back of earnings beats from tech heavyweights.
Along with the deluge of corporate results, the Federal Reserve holds its two-day Federal Open Market Committee meeting , ending on Wednesday. While many are not expecting a rate hike this week, at least one former Fed staff member thinks the central bank needs to start raising rates as soon as possible.
On the earnings front, about one-third of the S&P 500 reports results, with six of those companies also Dow components. More than a third of the S&P 500 has already reported results for the quarter.
Dow components reporting this week
| | |
| --- | --- |
| Report Date | Company/ticker (FactSet EPS / revenue consensus estimates) |
| Tues., Oct. 27 | |
| Fri., Oct 30 | |
As has been the case over the past few quarters,
Apple AAPL, -3.19%
is expected to do a lot of the heavy lifting for tech sector earnings.
The S&P 500 tech sector is currently looking at a 2.1% rise in earnings from a year ago, but without Apple's contribution, the sector would be facing a 3% decline, according to John Butters, senior earnings analyst at FactSet.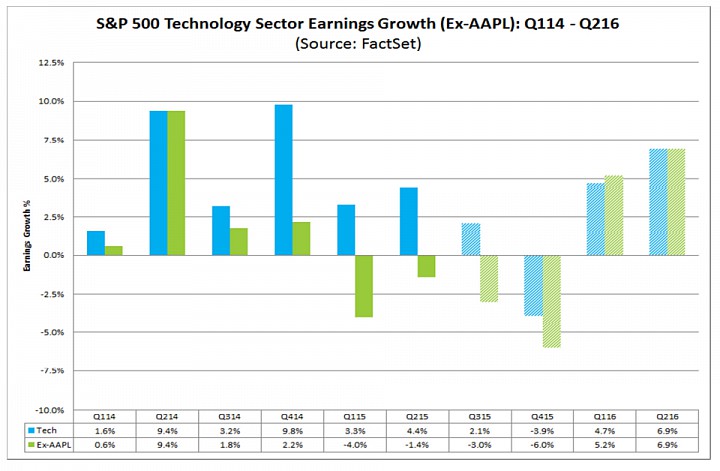 Overall, the S&P 500 faces a 3.8% decline in earnings from the year ago quarter, an improvement over the week ago trajectory of a 4.6% decline, owing to better-than-expected results last week from companies such as Microsoft Corp.MSFT, +2.61% , Alphabet Inc. GOOGL, +1.64% , and Amazon.com Inc.AMZN, +1.60%
Outside of Apple, the rest of the week is dominated by earnings from consumer-based companies like Starbucks Corp. SBUX, +1.31% Comcast Corp.CMCSA, +0.32% and Ford Motor Co. F, +0.06% and health-care related companies like Pfizer, Merck, and Gilead Sciences Inc. GILD, +0.59% Consumer discretionary earnings are projected to grow by 12.1%, and health-care earnings by 7.7% from the year-ago quarter.
But lurking at the end of the week are earnings from ExxonMobil XOM, -2.12% and Chevron CVX, -2.71% with earnings from several other energy companies during the week. Results from the energy sector, which reports in force this week, will drag on the steady improvement of S&P 500 earnings this season. Earnings in the energy sector as a whole are expected to decline by 65% from a year ago.
Other S&P 500 companies reporting this week
Report Date
Company/ticker (FactSet EPS / revenue consensus estimates)
Mon., Oct. 26

Edwards Lifesciences Corp. EW, -1.97% (98 cents / $599.2 million)
Xerox Corp. XRX, -3.00% (23 cents / $4.54 billion)

Tues., Oct. 27

Bristol-Myers Squibb Co. BMY, -0.94% (35 cents / $3.86 billion)
Gilead Sciences ($2.87 / $7.79 billion)
Comcast (80 cents / $18.01 billion)
United Parcel Service Inc. UPS, -0.58% ($1.37 / $14.41 billion)
Ford (46 cents / $35.55 billion)
Reynolds American Inc. RAI, +1.23% (54 cents / $3.07 billion)

Weds., Oct. 28
Thurs., Oct. 29

Starbucks (43 cents / $4.9 billion)
MasterCard Inc. MA, -0.16% (88 cents / $2.55 billion)
Altria Group Inc. MO, +0.57% (75 cents / $4.89 billion)
McKesson Corp. MCK, +1.38% ($3.01 / $47.83 billion)
Time Warner Cable Inc. TWC, +0.01% ($1.55 / $5.96 billion)
Aetna Inc. AET, +1.80% ($1.76 / $15.22 billion)
ConocoPhillips COP, -3.04% (per-share loss 36 cents / $8.04 billion)

Fri., Oct. 30
More from MarketWatch