Burberry, the UK luxury fashion brand, has reported a 7% rise in revenue for the first half of the year despite what it described as a "difficult external environment".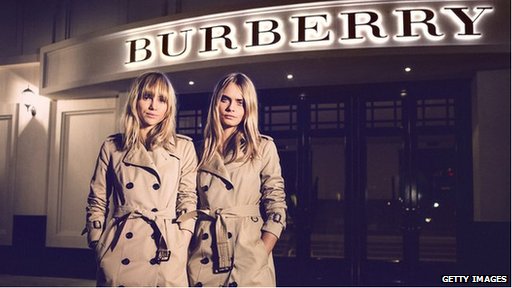 The firm said total revenues were £1.1bn for the six months to 30 September, with sales in its retail division up 8%.
It credited a re-launch of the heritage trench coat for helping to drive sales.
Burberry opened nine new stores in the period, but closed eight.
"While mindful of the more difficult external environment, we have never been better prepared internally for the all-important festive periods," said chief executive Christopher Bailey.
It said that the impact of unfavourable exchange rates had recently reduced, but said this benefit would be "partly offset" by the difficult environment.
The firm warned this would put "slight downward pressure" on its retail and wholesale margins as it continued to invest in "key initiatives" to drive long-term profit growth.
However, it said if exchange rates remained at current levels, the impact on retail and wholesale full year profit would be "material".
Sales growth in Asia and the Americas was the strongest in the first half, but Burberry said it had seen "some softening" in sales growth from Chinese consumers in the second quarter.
Source: bbc.com