Shire plc SHPG reported third-quarter 2017 earnings of $3.81 per American Depositary Share ("ADS"), which beat the Zacks Consensus Estimate of $3.64 and were up 20% from the year-ago quarter figure of $3.17.
However, revenues of $3.7 billion, up 7% year over year, slightly missed the Zacks Consensus Estimate of $3.76 billion. The year-over-year increase was aided by strong growth in the immunology franchise, partially offset by loss of sales of Cinryze and Lialda.
Shire's shares closed 2.8% higher on Friday, presumably on the earnings beat and strong immunology franchise growth. However, the company's shares have underperformed the industry so far this year. The stock fell 16.6% during this time compared with the industry's 2.2% decline.

Quarter in Detail
Product sales increased 7% year over year to $3.6 billion driven by the immunology franchise. Royalties and other revenues were up 20% to $164 million primarily due to an increase in royalties acquired from Dyax and Sensipar.
The company's Ophthalmology franchise contributed $77.4 million to total product sales, up 34.8% sequentially, driven by strong demand for Xiidra.
The immunology franchise registered sales of $801.7 million, up 32.2% year over year. Neuroscience franchise sales came in at $691.1 million, up 12.1% driven by strong demand for Adderall XR amid generic competition. Moreover, Mydayis, which was approved in June for attention deficit hyperactivity disorder ("ADHD") and has been available through prescription since late August in the United States, brought in sales of $10.2 million. Vyvanse sales increased 5% to $538.4 million.
Genetic disease portfolio sales were down 7.1% to $628.1 million primarily due to lower sales of Cinryze, which declined 65.6% to $56.9 million as a result of supply shortage arising from manufacturing interruption. However, sales of Firazyr were up 33.6% to $137.4 million and Elaprase sales increased 4.2% to $152.9 million.
The company may have lost some hereditary angioedema ("HAE") patients to rival products due to this shortage. However, to avoid supply shortage in the future, the company is planning to manufacture Cinryze itself. An application for in-house manufacturing facility has been filed in the United States.
Lialda sales were down 58.4% to $86.7 million due to the entry of generic competition. The company has launched an authorized generic version of its own to counter the competition. However, Gattex and Natpara showed impressive performance with sales increasing 46.1% and 67.8% to $84.9 million and $39.1 million, respectively. Oncology sales added .5 million to total revenue.
Research and development (R&D) costs were down 21.2% to $402.8 million and selling, general & administrative (SG&A) expenses decreased 1.8% to $859.7 million primarily due to synergies related to the Baxalta integration.
The company is in the process of divesting five of its manufacturing facilities, as it has excess facility following the Baxalta acquisition. Shire has already divested two of its facilities along with the divestment of Hayward, CA biotechnology site.
2017 Outlook Reiterated
Shire maintained its earnings per ADS guidance in the range of $14.80–$15.20 and product sales projection in the range of $14.3 billion and $14.6 billion. The company re-stated its forecast for royalties and other revenues of around $600–$700 million. Gross margin is estimated between 74.5% and 76.5%.
Regulatory Update
In August, Shire submitted a marketing authorization application in Europe seeking approval of lifitegrast (approved as Xiidra in the United States) for treating dry eye disease. In September, the FDA granted fast track designation for its chronic lung disease candidate, SHP607. An ongoing phase II study is evaluating the candidate in extremely premature infants.
Subsequent to the quarter in October, the European Commission approved the label expansion of Firazyr to include paediatric patients (adolescents and children aged 2 years and older) with acute HAE. Meanwhile, the Committee for Medicinal Products for Human Use has recommended the approval of its marketing authorization application for Lyophilized Oncaspar, a new dried formulation. Shire's hemophilia A candidate, SHP654, was granted orphan drug designation by the FDA.
The company is planning to file a biologics license application for HAE candidate, SHP643, by March 2018 and a new drug application for chronic constipation candidate, SHP555, by the end of this year.
Pipeline Update
Shire continues to progress with its pipeline candidates. In September, angioedema candidate, SHP616, demonstrated significant reduction in HAE monthly attack rate versus placebo in pivotal SAHARA study in patients 12 years of age or older. Meanwhile, Intuniv demonstrated superiority over placebo in improving clinically administered ADHD rating scale compared to baseline in a phase III study.
Our Take
Shire's third-quarter results were encouraging with the company beating bottom-line estimates driven by the sales of immunology sales. The approval of label expansion of Firazyr in Europe is expected to boost sales going ahead. A potential approval of Lyophilized Oncaspar will provide further boost to its top line.
The availability of Mydayis boosted the company's immunology space. Its uptake has been strong with over 3,000 physicians prescribing to over 11,000 patients till Oct 17. The manufacturing issue related to Cinryze was also addressed with $100 million of products shipped to customers in early October. This shipment is expected to have a significant impact on fourth-quarter sales.
However, generic competition for Lialda is expected to continue, further impacting the sales unfavorably in the fourth quarter.
Shire PLC Price and EPS Surprise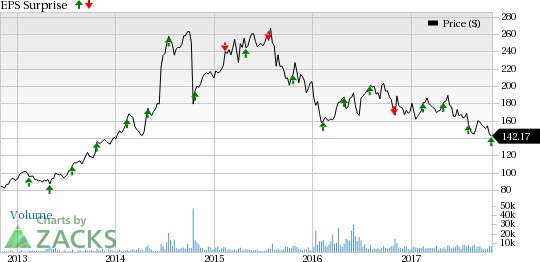 Zacks Rank & Key Picks
Shire carries a Zacks Rank #4 (Sell).
Some better-ranked stocks in the pharma sector include Illumina, Inc. ILMN, Exact Sciences Corporation EXAS and Exelixis, Inc. EXEL. All the three stocks carry a Zacks Rank #2 (Buy). You can see the complete list of today's Zacks #1 Rank (Strong Buy) stocks here.
Illumina's earnings estimates increased from $3.65 to $3.72 for 2017 and from $4.41 to $4.51 for 2018 over the last 30 days. The company delivered positive earnings surprise in three of the four trailing quarters with an average beat of 9.7%. Its share price is up 64.1% so far this year.
Exact Sciences' loss estimates narrowed from $1.19 to $1.18 for 2017 and from 80 cents to 73 cents for 2018 over the last 30 days. The company came up with a positive earnings surprise in each of the four trailing quarters with an average beat of 19.52%. Its share price is up 282.9% so far this year. The company is scheduled to release third quarter results today.
Exelixis' earnings per share estimates remained flat at 26 cents for 2017 and increased from 63 cents to 64 cents for 2018 over the last 30 days. The company delivered positive surprise in all the four trailing quarters with an average beat of 543.59%. The stock is up 78.6% so far this year. The company is scheduled to release third-quarter results on Nov 1.
Zacks' Best Private Investment Ideas
While we are happy to share many articles like this on the website, our best recommendations and most in-depth research are not available to the public.
Starting today, for the next month, you can follow all Zacks' private buys and sells in real time. Our experts cover all kinds of trades… from value to momentum . . . from stocks under $10 to ETF and option moves . . . from stocks that corporate insiders are buying up to companies that are about to report positive earnings surprises. You can even look inside exclusive portfolios that are normally closed to new investors.
Click here for Zacks' private trades >>
Want the latest recommendations from Zacks Investment Research? Today, you can download 7 Best Stocks for the Next 30 Days.
Click to get this free report
Illumina, Inc. (ILMN): Free Stock Analysis Report
Exelixis, Inc. (EXEL): Free Stock Analysis Report
Exact Sciences Corporation (EXAS): Free Stock Analysis Report
Shire PLC (SHPG): Free Stock Analysis Report
To read this article on Zacks.com click here.
Zacks Investment Research