US released it's January's Non-farm Payroll report, and its a bit of a doozy.
Instead of an expected 185K jobs, the economy added only 113K
. That's a fairly
steep miss from the consensus
. In
December, the economy added only 74K jobs
, so its
2 months
in a row that payrolls came in below expectations.
However, if you step back, and "look at the forest, instead of the trees" you can see that payrolls have been fairly steady since the start of 2011.
This graphic does a good job of visualizing NFP Change vs the Unemployment Rate: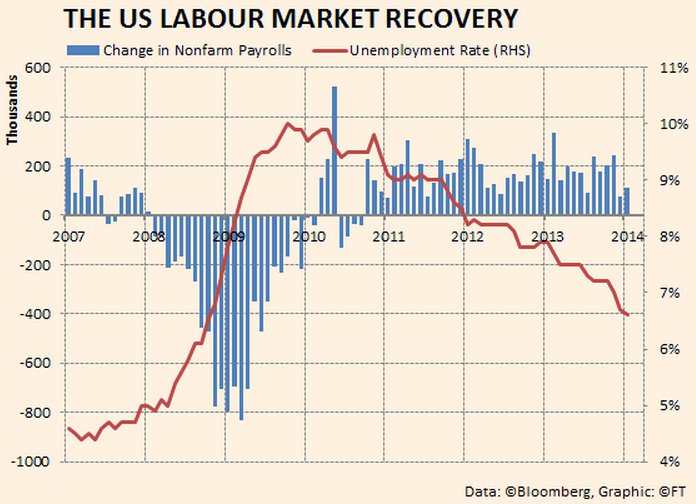 During the last 3 years, there have been times when labor growth was lackluster with a couple of low months here and there. But, the general trend of the data since 2011 has been positive job growth. That's a sign of some consistency in the US economy. Can bad weather be to blame, and coming months see a rebound in hiring?

The unemployment rate continues its decline, falling to 6.6%, surprising the consensus estimate that expected it to stay at December's 6.7%. However, as many people, including the Fed pointed out, its more because the labor participation rate keeps falling.

Now, February's NFP report takes on more importance as the Fed's FOMC doesn't want to see 3 months in a row of weak NFP growth. So far, its stuck to Bernanke's original outline for how it would proceed with "Tapering" its bond purchases.