AsiaPac stocks are broadly lower at the open, folowing US' lead as after being closed for 3 days, Japanese stocks open and catch down to global weakness with Nikkei 225 at 2-week lows. It appears it is time to "get back to work Mr.Kuroda," as stocks are below Black Monday's lows. Following last night's dismal data, China credit risk rose once again to new 2 year highs. Once again, industrial metals are under pressure with iron ore, copper, and aluminum all lower (following "peak steel" comments). After 3 days of weakening (and Xi's comments that China won't weaken), PBOC weakend the Yuan fix again, pushing the offshore-onshore spread to 2-week wides (over 500 pips apart).
After 3 days of holidaying, selling resumes in Japanese stocks... ahead of tonight's Japan PMI.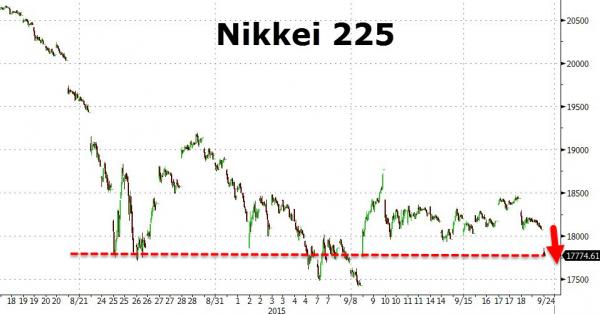 The good news to start the day in China, delveraging begins again...
*SHANGHAI MARGIN DEBT BALANCE FALLS FIRST TIME IN THREE DAYS
As it appears the excitement of high beta fraud is back with ChiNext and Shenzhen outperforming this week...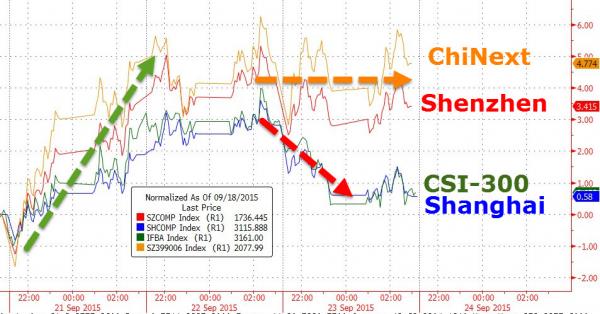 But the path remains similar (albeit a little faster)...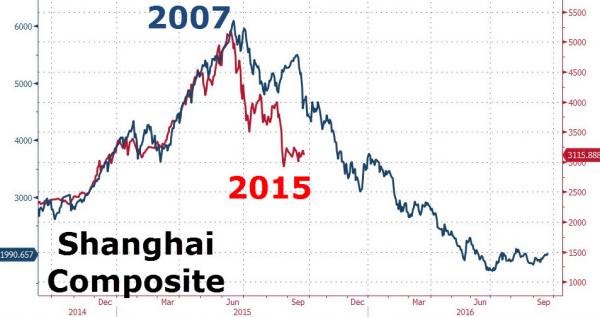 Once again China injects more liquidity...
*PBOC TO INJECT 80B YUAN WITH 14-DAY REVERSE REPOS: TRADER
And industrial metals are all lower after...
*CHINA STEEL OUTPUT TO DROP TO 810 MLN TONS IN `15: CUSTEEL
*CHINA STEEL OUTPUT HAS PEAKED, CUSTEEL'S YANG SAYS IN I'VIEW
But China default risk continues to leak higher...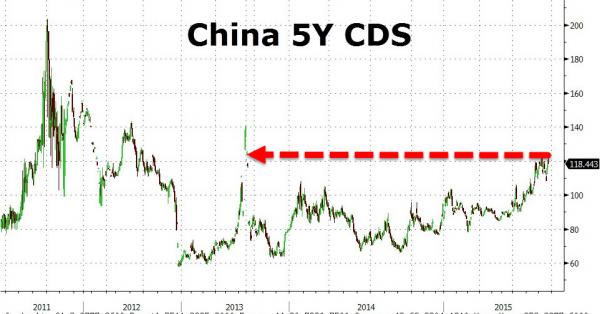 Following Xi's comments that China will not devalue the Yuan (and 3 days of devaluing the Yuan), PBOC weakened the Yuan fix again tonight...
*CHINA SETS YUAN REFERENCE RATE AT 6.3791 AGAINST U.S. DOLLAR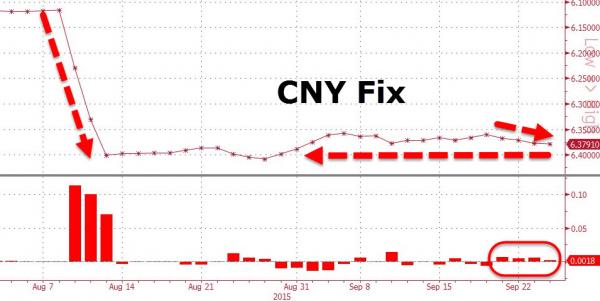 Notably the spread between Onshore and Offshore Yuan has pushed to a 2-week high...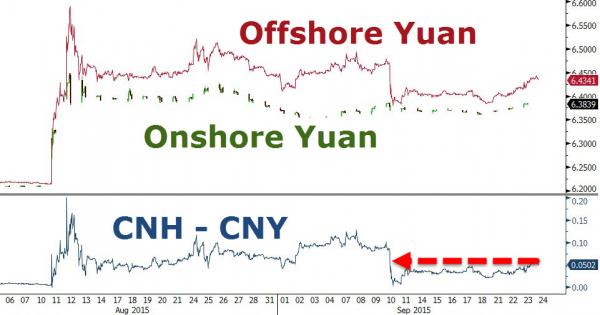 Charts: Bloomberg